Brookdale Fruit Farm, Hollis, NH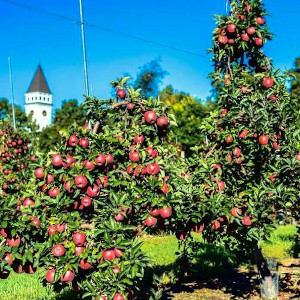 Since the profile of the Brookdale Fruit Farm appeared in the book New Hampshire: From Farm to Kitchen, which spawned newhampshirefarms.net, much on the farm has changed, yet much remains the same with the Hardy and Whittemore families remaining in control. The Brookdale farm seems to spawn businesses. Their wholesale business continues to flourish with the demand for locally-grown produce, becoming one of the state's largest retail, pick-your-own, and wholesale growers of fruits and vegetables. Find fresh produce, honey, maple syrup, breads, pasta, and specialty foods for sale at their daily farm stand.
Address: 41 Broad St,
Hollis, NH 03049
Phone: +1 (603) 465-2240

Benedikt Dairy, Goffstown, NH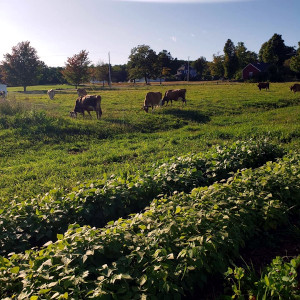 One has to admire the courage of Melissa and Max Blindow, they have invested in a long-term venture. "You seed Benedikt Dairy their vegetables in the spring, harvest and sell in the summer, and are hopefully able to relax for a couple months in the winter. But with a dairy there is an expensive infrastructure of buildings, animals, equipment, and supplies that must be purchased and then, of course, a market must be developed and built on" says Max. Good fortune came their way as they found a welcoming neighborhood wanting to buy their raw milk, eggs, yogurt, cheese, and meats by CSA subscription or at the farm stand.
Address: 97 Shirley Hill Rd,
Goffstown, NH 03045
Phone: +1 (603) 801-7056

Yankee Farmer's Market, Warner, NH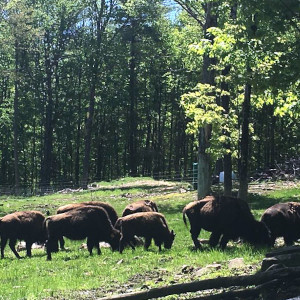 To help pay for college, Brian Farmer made extra money flipping buffalo burgers for his cousin at fair concession stands. Needing extra help, he hired a very attractive college pal who happened to be a co-ed name Keira and a year later they were married.  Today, the couple runs the Yankee Farmer's Market—a NH Buffalo farm that sells a variety of local products including USDA inspected, pasture-raised bison meat, elk, venison, naturally raised chicken, free range turkey, pastured pork, and grass-fed beef along with other goods sold at the farm.
Address:
360 New Hampshire Rte 103,
Phone: +1 (603) 456-2833

Barrett Hill Farm, Mason, NH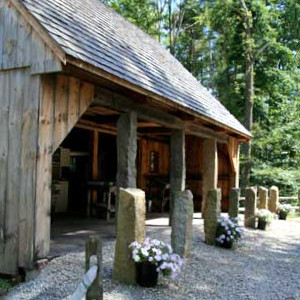 Barret Hill Farm is located high on a hill in Mason, NH. They sell a wide selection of ready-to-eat organic vegetables, fruit, and pasture-raised meats.  Their farmstand represents the best of old Yankee technologies: each board was hand hewn from trees felled on the farm and constructed in the post and beam fashion. Its granite posts were found on the farm and chipped with stone nippers, where necessary, to form the pillars and posts of the stand. In peak season, the farm stand's shelves are alive with color and products largely grown and produced on the farm. Those that are not homemade are purchased only from local community businesses. This farm stand is a feast for the eyes both architecturally and with product. And their old traveling stand still makes the rounds to local farmers' markets.
Address: 450 Fitchburg Rd,
Mason, NH 03048
Phone: +1 (603) 878-4022

McLeod Orchards, Milford, NH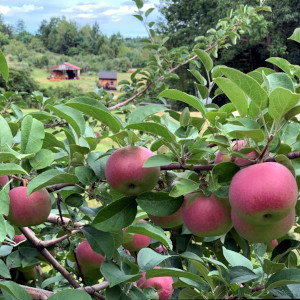 A family-owned and operated farm for over 70 years, McLeod Orchards was founded by Donald K. McLeod, graduate of the University of New Hampshire in Animal Husbandry back in 1927. On impulse, or perhaps desperation, Donald left that desk in 1946, bought a farm in Milford, and planted two orchards, one for apples and a smaller one for peaches. Donald W. died in 1991, leaving the orchards to his wife and two daughters, Kris Mossey and Becky McLeod. As the wholesale apple business was beginning to decline from global competition, the three McLeod ladies decided that the primary business would continue to be apples, but by diversifying the farm to include summer vegetables and berries, they would be able to extend their production season and diversify their crops to take full advantage of the local farmers' markets. The ladies also decided to increase the variety of apples, replant the peach orchard, and add fall vegetables and a fall CSA to their late season offerings.

Address: 735 N River Rd,
Milford, NH 03055
Phone: +1 (603) 673-3544


Crazy H Farm, Claremont, NH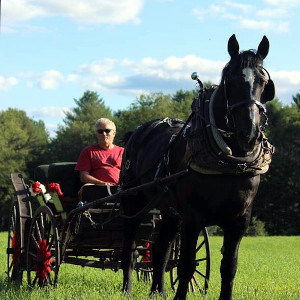 Expect a warm welcome when you drive into the Haynes family Crazy H farmstead in Claremont, NH. Jenni Haynes' bright eyes and rosy cheeks radiate a joy for farm living and pride in her upbringing. "My parents wanted to raise their family on a farm, and they encouraged each of their children to focus on one hobby that interested us". The Crazy H is a bio-dynamic farm in which life interconnects: the horses are used for haying and logging, their manure plus pine shavings make the compost used for mulching blueberries. Everything is done "the old-fashioned way" without pesticides, antibiotics, or hormones. At the Crazy H, it's a cage-free world. While Jenni has traveled to Europe and Africa, it is clear that her preferred universe remains planet Crazy H.
Address: 50 Canter Pl,
Claremont, NH 03743
Phone: +1 (603) 542-3706