By Helen Brody (June 19, 2013)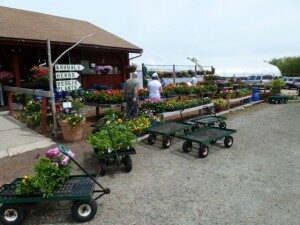 Most of New Hampshire's farms are located amongst hills and woodlands. Not so Spring Ledge Farm in New London, NH. This beautifully laid out farm is one of a very few in the state situated on conservation land in the middle of a bustling town. The pride of the town's Main Street, the farm is situated between two sections of a commercial zone.
John and Sue Clough opened the farmstand in 1976 on land John's family had owned since before the Civil War. Fortunately, as the years passed and their farm gained in importance to them and the town, land conservation became a priority.
"Ultimately," according to Merrimack County's Conservation News, "the Cloughs reached a decision to dedicate the bulk of the farm to a perpetual easement, thus preserving this unique in-town farm."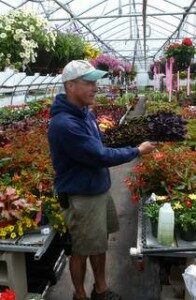 In the late 1980s, one of the Cloughs helpers was a 15 year old named Greg Berger, a resident of New London whose parents owned The Country Press, publisher of the popular Kearsarge Shopper. "I always liked gardening since being a kid," he says today, so after graduating from Ag School at Cornell University with a plant science major, he went back to Spring Ledge to continue working with John and Sue in the vegetable fields and greenhouses. By 2005, the Cloughs, who were ready to retire, offered Greg the opportunity to buy the farm.
With help from many dedicated crews, Spring Ledge continues to expand not only the farm business but the conservation tradition set by the Cloughs. The farm works closely with the conservation district to implement resource saving-practices such as cover crops, drip irrigation, bio-degradable mulches and enhanced soil testing. It was named by the Merrimack Conservation District the 2012 "Conservation Cooperator of the Year."
Greg oversees the ornamentals (flowers and plants) and Tasha Dunning is responsible for vegetables and fruits. She is  a 20 year veteran of the farm and remembers helping to build its roads. "We dug deep gullies and filled them with rocks, so all roads have a rock base."
Today, 40 employees, seasonal and full time, work together to plant on 45 bountiful acres in the Kearsarge/Lake Sunapee region. Thirty-five are in town under the conservation easement. Within a stone's throw of the farmstand are fourteen greenhouses and cold frames for annuals, hanging baskets, vegetable transplants, mums, poinsettias and seedlings to provide vegetables and berries for the stand. To the right of the entrance is a field of pick your own flowers to tie into bouquets for a house that may be only a block away.  A pick your own strawberry patch lies a few miles away on Pleasant Lake. To complete its offerings the farm supplies, breads, cheeses, meats, and milk from near by farms. Says Tasha, in what anyone would consider an understatement, "It's very special to New London to have a beautiful farm and a fully stocked farm store right in the middle of town,"
Spring Ledge Farm
Greg Berger
37 Main Street
New London, NH 03257
Farmstand: 603-526-6253
Beeline:   603-526-2080
Retail: (Direct to Consumer Sales)
Farmstand: 37 Main St., New London, NH
Pick your own flowers and strawberries
Wholesale: (bulk sales to restaurants, markets, stores, schools, hospitals)
Coach House Restaurant, New London Inn, New London, NH
Simon Pearce Restaurant, Quechee, VT
Millstone Restaurant, New London, NH
Market Table, Hanover, NH
Home Hill Inn, Plainfield, NH
Lebanon & Hanover Co-ops, NH (micromix retail bags)
Photo credit: strawberry baskets: MichaelSeamansphotography