By Students of Colby Sawyer, New London, NH (December 8, 2015)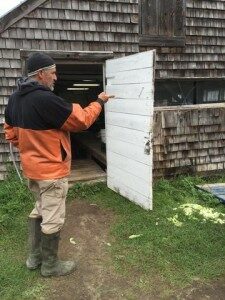 Who would have thought splitting wood with friends could lead to the name of a farm? This was the case for Steve Fulton, the owner along with his wife, Marja, of Blue Ox Farm in the small town of Enfield, New Hampshire. After a suggestion from one of his friends, related to the tall tale of Paul Bunyan, Steve had the name for his soon-to-be farm.
Graduating from Worcester Polytechnic Institute and working as a mechanical engineer for 30 years, Steve wanted more of a product as a result of his work—a product that was actually tangible; something he could sell to others as a result of his hard work. Starting out, he had land and a garden. These expanded year by year. Simply enough, "one thing led to another," Steve says. By 2002, he and his wife had their own certified organic farm. "I started out organically in the beginning and ran with it," he told us.
Although their daily routines change seasonally, most days you can find these busy farmers up around 5:30 a.m. Steve Fulton is at his desk by 6:00 to receive orders and get organized for the day. Come 7:00, the entire staff comes together for the morning meeting and then they are on their way to the fields to carry out their duties. Harvesting generally occurs in the morning, while packing goes into the afternoon. In the winter months, when they aren't as busy, they try to finish all daily tasks by 5:00 p.m. Comparing this to their busiest season, they are done a couple hours earlier during the winter.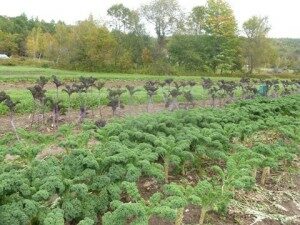 Many of the farm's products are market driven. Greens, tomatoes, peppers, and winter squash are a few of Blue Ox's most popular items. You name the vegetable, and the customers have it at Blue Ox. "We grow too many," Steve said jokingly. Recently, Blue Ox began shipping to Whole Foods. Dartmouth Hitchcock Medical Center is also one of the farm's best customers.
Blue Ox includes 26 acres of crop land and 18 acres of cover crops. Three of the farm's seven greenhouses are heated. They fire up the heated greenhouses come mid-March.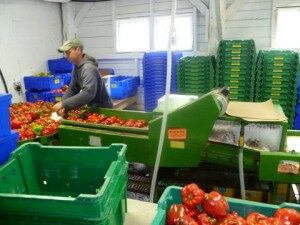 As the world around us advances, so does Blue Ox. In 2014, Blue Ox opened a farmstand in a small plaza on Route 4, making their products easily accessible to locals. This year the farm is exploring the benefits of a new cultivator. They also have been gaining more mechanized tractors year by year. These have helped with efficiency, and also include emission controls. Microsoft Excel is also crucial to production at Blue Ox, helping with organization and staying on top of production data.
Thinking ahead, Steve isn't sure about the future of Blue Ox Farm. Although he would like to retire one day, when that will be or who will take over is still unknown. "Farming is emotional," he said. "You can't predict the weather. A couple weeks of straight rain can take a toll on the farm."
Contact Information:
Blue Ox Farm
Steven and Marja Fulton
842 Shaker Hill Rd, Enfield, NH 03748
(603) 632-9643
Retail:
Blue Ox Farm Stand 552 NH Route 4, Enfield, NH 03748
1 PM to 6 PM Sunday to Friday, 10 AM to 6 PM Saturdays
Colby Sawyer Students: Maliha Azizi, Emily Smith, Kendall Trahan, and Natalie Wilson