By Meghan McCarthy McPhaul (August 10, 2015)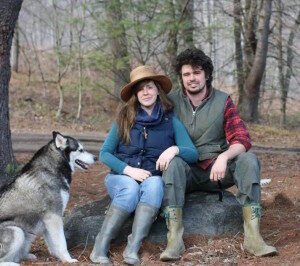 Prospect Farm spreads across 115 quiet, hilly acres in Lisbon, New Hampshire. It's a space Meryl and Lane Nevins are gradually growing into—raising pigs, Highland cattle, rabbits, and poultry for their Community Supported Agriculture (CSA) members and other customers seeking food that, as the Nevinses say, "is raised the way it should be."
The farm's long drive turns off a quiet back road, passing fields containing some of the 2,000 birds Meryl and Lane will raise this year and a herd of six Highland cattle knee-deep in grass and clover. A few laying hens and ducks wander freely around the barnyard. Straight rows of apple trees lead over a gentle hill from the barn to the goat pen containing two goat kids and two does, which Meryl and Lane milk for their own use.
On a perfect July day, farm dogs Ajax and Josie follow Meryl as she makes her way through the fields. Milo, the cat, prowls congenially around the barn as Lane works to get the morning's shipment of 104 turkey chicks settled in. Outside the barn, three enclosures contain rabbits—a breeding buck in one, a doe and her kit in each of the others. More than four dozen pigs, including Boris the Boar and nine breeding sows, browse in different fields throughout the farm.
Meryl and Lane met as students at the College of the Atlantic in Bar Harbor, Maine, she studying photography, he pursuing writing. After a foray to Portland, Oregon, they returned to New England determined to create a future, not in the arts, but in agriculture. Buoyed by the works of Wendell Berry, Elliot Coleman, and other proponents and practitioners of sustainable farming, Meryl and Lane began homesteading.
In 2012 they established Prospect Farm in Lunenburg, Vermont, as a small, CSA-based vegetable farm. Two years later, with many lessons learned and changes made, they moved across the Connecticut River to the property in Lisbon, which they found through Keep Growing, an agricultural initiative of the local Ammonoosuc Conservation Trust.
"We always wanted to have our own business and work together," said Lane. "It's great to be able to raise food for us and for others."
Their farming philosophy is a holistic one, taking into consideration not only the wellbeing of their animals, but the long-term health of the land, too. They follow intensive rotational grazing practices, moving animals through different pastures to provide the best forage and allow the animals to aerate the land with their hoofs and fertilize it with their manure. They've planted corn, squash, and root vegetables in some of the fields, which the pigs will happily consume.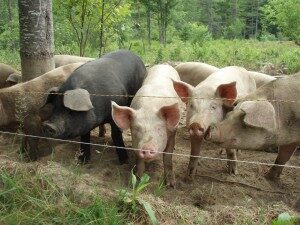 "Pigs are like humans in that they need a wide variety in their diet," Meryl said.
Careful thought is also given to which animals they raise. They chose Highland cattle because of the breed's hardiness and ability to live outdoors year-round—the Nevinses don't believe in raising animals indoors—and also because they are a leaner, slow-growing breed, which allows their meat to develop more flavor. The pigs are Tamworth, Berkshire, and Large Blacks, bred with careful consideration to the timing of when they'll farrow and to lines that will produce the healthiest animals and highest quality meat.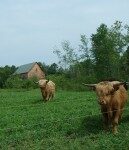 Chickens, turkeys, and rabbits are raised in moveable pens, allowing them to roam and forage freely. All animals at Prospect Farm are raised without hormones or antibiotics.
"Our main focus is making sure the animals are being raised in the most healthy and natural way possible," said Meryl. "It just feels right to us."
With a focus on pork and poultry available through the farm's CSA, Meryl and Lane are also gradually adding beef and rabbits into the mix. Their meat is available at the Littleton Food Co-op, and they're looking to expand into local restaurants as well.
Prospect Farm's early success is due in large part to its owners' flexibility to adjust to the niche market they've found and to their careful business planning. Those traits helped them garner top honors in the inaugural Capital adVENTURE Challenge offered through the Littleton Area Chamber of Commerce this year. Their prize of more than $4,000 has helped the young farmers continue to grow their business, including the purchase of three additional breeding sows.
"When you dream about farming, you don't think about being a business owner, but you quickly learn that's a big part of the picture," said Meryl. "We're always adjusting."
While their dream of owning a farm has come with its share of financial stress and long days, Meryl noted that all the positive things about farming outweigh those, "working outside, working with your partner in life, being around the animals."
On that perfect July day, Lane explained their farming venture this way: "I think we're finally where we want to be."
Prospect Farm
Meryl and Lane Nevins
398 B Plains Road
Lisbon, NH 03585
(603) 838- 2395
http://www.prospectfarmvtnh.com/
Retail: CSA By appointment (email is best)
Thanksgiving turkey orders (by email or phone)
Wholesale:
Littleton Food Co-op
Meghan McCarthy McPhaul is an author and former newspaper reporter. She pens a regular column for the Littleton Record, as well as web copy and press releases for various businesses. Her writing has also appeared in several regional and national publications, including Powder, Northern Woodlands, Forest Notes, and the Journal of the New England Ski Museum. www.MeghanMcPhaul.com