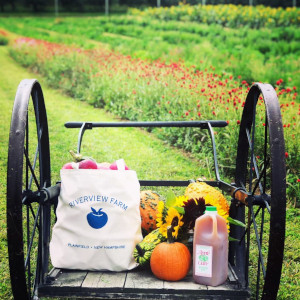 The 44-acre Riverview Farm is home to over 1,600 apple trees, hundreds of blueberry, fall raspberry and currant bushes, pumpkins, corn, and cut-your-own flowers. A picnic area and barn store—with products from their own and neighboring farms—add to the visitor's experience. The family's friendly dogs may greet you. And nowadays you can see bald eagles, geese, and many other birds fly over the river. The farm has a corn maze for wandering, hayrides as another way to reach the orchards and enjoy the scenery. Safe and comfortable for every member of the family, the entire farm is handicap accessible for your convenience.
Phone: +1 (603) 298-8519

---
By Debbie Diegoli (September 19, 2014)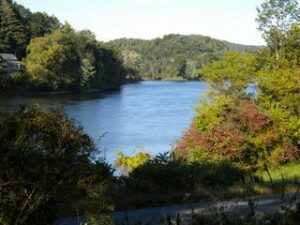 Sitting on the Franklins' porch in late spring, it was obvious where Riverview Farm's name comes from, but that wasn't always so.  When Nancy and Paul Franklin bought the property and moved there from Meriden New Hampshire in 1981, it was so overgrown that they couldn't even see the river.  As he brought their first UPS delivery, the driver told them, "I didn't even know there was a house here!"  Although previously a farm, most of the land had not been maintained in recent years and it took a great deal of work to become the diversified operation that it is today.
Now the 44-acre farm is home to hundreds of blueberry, fall raspberry and currant bushes, apple trees, pumpkins, corn and cut-your-own flowers.  A picnic area and barn store, with products from their own and neighboring farms, add to the visitor's experience.  The family's friendly dogs may greet you.  And nowadays you can see bald eagles, geese, and many other birds fly over the river.
Although peak time for Riverview is in the fall, you don't need to wait until then.  The farm is open for a time in early July (call ahead) for red currant picking.  "A lot of people of Scandinavian heritage come for those – they know what to do with currants" Nancy explained.  You can also find the Franklins' fruit and preserves at the Lebanon and Norwich (VT) farmers' markets, beginning in mid-August.  In addition they sell wholesale locally to a variety of institutions and businesses.
Their blueberries are a late variety, mostly Elliot, and go through September.  Apples are their biggest crop; the earliest varieties are Zestar and Paula Reds, with several more to follow (a dozen types all together).  They press their own cider and stay open for pick-your-own pumpkins in the fall.  On autumn weekends homemade donuts and horse drawn hayrides await visitors.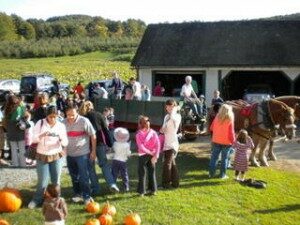 Once Riverview starts its regular season, a corn maze is open every day through the end of October.  Artist Gary Hamel from Orange, NH, designs the corn mazes with a different theme each year, complete with a story and costumed scarecrows. Last year's theme was related to the 250th anniversary of the signing of Plainfield's charter.  On or near Halloween they offer a "haunted corn maze" to round out the season.
The farm uses Integrated Pest Management (IPM) to grow healthy fruit with minimal use of pesticides.   IPM involves planting disease resistant varieties, monitoring for pests with traps, release of beneficial insects, keeping the orchard well mowed, and spraying with the least harmful pesticides possible and only when absolutely necessary.
Nancy described a "Twilight Meeting "of the New Hampshire Fruit Growers that they had attended, where they learned about controlling insect pests new to the region.  Farming is quite complicated, Nancy points out, "you really need a background in biology to follow what they're talking about!" They are watching for three insects: the green pug worm, which can be controlled by a pesticide approved for organic use; the brown marmorated stink bug, which has been detected in the Portsmouth area; and the spotted wing drosophila, a type of fruit fly which will attack ripe berries still on the vine.  These invasive insects have traveled to the U.S. from overseas. The latter two haven't yet made an appearance in the Plainfield area, but the farm has traps out to monitor for them; early detection makes for easier control.
Young children who come on school tours each year learn about stewardship.  The fact that there are "good bugs" is an important lesson.  They also discuss how deer fences protect the apples and how fruit must also be protected from the damage that humans can cause.  Kids – and parents, alike – learn that apples and blueberries set their buds one year in advance.  Since the buds are already growing for next year, it is crucial that kids not climb the apple trees!
Many people don't realize how easily apples bruise; customers must handle them carefully when picking, transporting or setting them down. (It might help to think of them as ripe tomatoes)  If they don't use care, folks may find that the apples in the bottom of the bag have gone bad before they finish them.  Gentle handling will allow you to get the most out of your fruit.  Their website gives additional information helpful for planning a trip to the farm.
Riverview Farm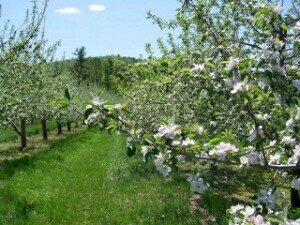 Nancy and Paul Franklin
141 River Road
Plainfield, NH 03781
603-298-8519
Retail: Farmers' Markets: Lebanon and Norwich (VT)
On farm sales, pick-your-own
Local wholesale is available; call or e-mail the farm to arrange.
Author Debbie Diegoli has worked as Nutritionist for the Lebanon, NH, WIC program and as Program Assistant for the Valley Food & Farm program at Vital Communities (http://www.vitalcommunities.org/agriculture/index.htm)
Photo Credit: Top two photos: Meg Owens