By Sam Durfee, Plymouth State University Class of 2014 (June 12, 2014)
Between the rolling hills and mountains of Jefferson, NH along Rt. 2 lies Otokahe Farm.  Otokahe is Native American for "new beginning" and the farm is just that. Born from a desire to improve upon traditional methods of animal raising, Kristina and Bert von Dohrmann strive to raise happy, healthy Belted Galloway cows.
Kris started her 'beltie' herd in 2003 and in 2004 she purchased additional cows from Rousseau and Floodwood's Farms. Raised for their meat, the cows are completely grass fed and finished. Otokahe is not USDA certified organic simply because Kris stands by her belief that if a cow is sick, she should be able to give it necessary medication. Kris continues to improve the bloodline of the herd through careful genetic selection for breeding. She breeds her cows to improve their conformation. This is a general term for a cow's physical build/bone structure, udder quality, food conversion ability (digestion), mothering instincts and disposition. These qualities are very important to Kris. Healthy, happy cows make maintaining the herd easier, produces better calves, and better meat.
Both Kris and Bert work off the farm; Kris part-time and Bert full. They do not want their passion for farming to come down to money. For them it is all about the lifestyle and they love what they do. Raising a herd can be quite the challenge. Between managing nearly every aspect of the animals' lives, from health and well-being, to breeding and feeding, as well as keeping the buildings up to snuff, running Otokahe Farm is no small feat. To be able to do all this and still be able to produce some of the best grass fed beef around is certainly something to write home about. When Kris was asked how she feels about raising animals for slaughter, she replied, "I bring them into this world, I take them out of this world. While they are here, they are treated like royalty. I do not want to sound crass or diminish the fact that it is an animal's life. It is indeed a time treasured, respectful and humble relationship cycle of herdsman and animal." The cows at Otokahe sure seem like a happy bunch and the connection between them and Kris is tangible.
Kris and Bert own a mere five acres of land. Through the generosity of their neighbors, Matthew, David and mostly Allen (Doc) and Charlotte Naves, whom really are key partners, they are able to graze cows on almost an additional twenty acres. They simply could not do this without them, their lands, and support. They are hoping to expand  to forty acres in the near future. Currently, they are working with the Ammonoosuc Land Trust (ACT) to place these grazing lands under a conservation easement to ensure productive farm land for years to come. They would like to become a working educational farm for students of all ages to come and spend time and learn about being in tune with the land and sustainability of all aspects of land stewardship and animal husbandry.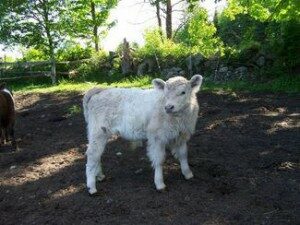 Aside from raising cows as bloodstock for herd genetics, Kris also raises her cows for freezer beef and jerky. She keeps an inventory of a variety of different cuts from short ribs to roasts and ground beef. Otokahe's jerky is a relatively new endeavor and has become a signature item. Bert headed up the jerky operation in 2009 and makes the jerky from their ground beef. They offer a variety of flavors including Teriyaki, Cracker Pepper and Garlic, Hot & Spicy and Original.
The biggest challenge facing Otokahe is not being able to meet the demand for their grass fed beef. Kris currently has ten breeding female s. She hopes to increase that number to twelve next year and fifteen the year after by keeping her female calves to raise for brood cows. Her goal is to have twenty-five females once she acquires more grazing land.
Kris's grandson who is eight years old has expressed a keen interest in farming. She says, "He is always excited to come to the farm and help out and for eight years old he is quite knowledgeable about raising cows, providing his two cents when a cow is ill."
Kris's father, Ken, and Mom, Linda are also active participants on the farm. "Bert and I could not do this without them."  Even though there is the occasional help from Kris's family,  in order to attain their goals, the couple will have to drum up some farm hands. Be it through summer interns or full time employees living and working on site, they will need more help if they are going to successfully expand the farm's operations to meet the growing demand.
Otokahe Farm
Chris and Bert von Dohrmann
15 Jason Avenue
Jefferson, NH 03583
(603) 586-7702 (603) 915-0447
Retail: (Direct farm to customer sales)
Farmstand: 2014 Hours Mon. 8 am – 6 pm Wed. 8 am – 6 pm
Fri. 8 am – 6 pm
Wholesale: (Sales to markets, restaurants, stores, schools, hospitals)
North Country Marketplace and Salvage, Colebrook, NH
Littleton Co-op in Littleton, NH
Support for this farm profile is courtesy of:
Plymouth State University's Center for Rural Partnerships- fostering collaborative projects that promote community resilience, opportunity, and a high quality of life in rural New Hampshire.