By Helen Brody (March 2, 2013)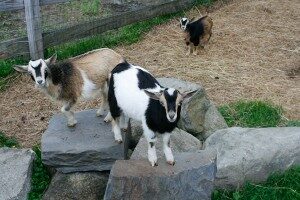 Unless you take a long hard look, Apple Haven Farm seems bereft of its namesake apples. But off Piper Hill Road in Colebrook, the current owner Patti Craig found between the volunteer evergreens an overgrown orchard, desolate and long abandoned, but the month was May and the trees were in full bloom. And in an instant, a vision was born. "The old trees had to have been planted by a former owner," says Patti, "because unlike the scrub evergreens, these trees were laid out in neat rows. And," she continued, "as I walked and dreamed of the future amongst the beauty and scent of the spring blossoms, this was Apple Haven."
And so in 2000 she left her job at First Colebrook Bank and purchased the orchard with 85 acres, an artesian well, a house, barn, and garage and began farming full time. Some local friends looked at her career change with the question "But, what do you really do?" What Patti "really does" is to devote her life to growing food and animals in an intelligent, organic, and humane way for markets and other farmers in the area.
The back of her frame house, with its high enclosed porch, faces the 1800 foot Dearth Hill to the North West with the Connecticut River flowing at its foot. Her farm is one of the last places in Coos County Zone 3 to experience a frost in the fall. And in the spring her property warms up early, so with the help of her greenhouse she can extend her growing season beyond most of her neighbors.
After she purchased the property, ever the romantic, Patti began growing the things she loved, vegetables, herbs and flowers; soon, realizing that enough income may not come out of the soil with the North Country's short season, she began raising Nigerian Dwarf Goats.
Down from the house, there was  a structurally sound and, architecturally striking for its simplicity, barn and with the help of her  boyfriend Roger Wighton, she painted it a dark brown and  installed a trench to bring water in for her herd. She chose the Nigerian Dwarf breed with its mix of brown, white, and black colors because they are small, easier to handle, take up less space in her barn and have multiple births. She is a self-taught breeder picking up whatever reading material she can find "most often at the feed stores." Her first book, which she refers to frequently, is the paperback Storey's Guide to Raising Dairy Goats: Breeds, Care, Dairying. She sells raw goat's milk to whomever wishes it and sells the kids to farmers for breeding, or to families for pets and/or 4-H projects. Slaughter is not in her vernacular. "I get too much enjoyment out of my goats to have them turned into chevon (goat meat)," she asserts.
Her herd averages eight to thirteen and she leases her registered buck for mating only to other approved Nigerian does. Always present for the births, she allows the kids to stay with their mothers for 24 hours to get colostrum which helps to prevent future infection. Patti also noted that it's more difficult to wean them from their mother if she waits more than 24 hours to begin bottle feeding.
Prior to a goat's birthing, tension runs high. With the anticipation, Patti's frenetic pace includes running from garden, to house to barn night and day as she constantly checks on the dam's progress. The experience leaves her emotionally and physically drained and the 24 hours the kid spends with the dam "gives me a break from having to care for them."
After two or so weeks of bottle feeding, Patti introduces feed, hay, and water. In seven to eight weeks the kids are totally off the bottle. "Baby goats are fun to have around," Patti says, beaming with delight. Clearly, she has not totally abandoned that romantic streak. But, she adds, "they do love my lilies, roses, and rhododendron."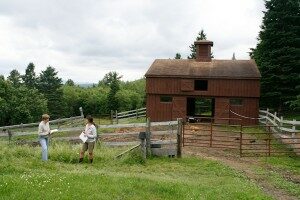 Everything is certified organic on the farm including the goats and milk. When not tending her goats, a variety of vegetables and fruits demand her attention. She also grows herbs as well as blueberries and apples. Her major crops are garlic, onions, lettuces, and broccoli – all things that adapt well to the Coos County colder climate. All her vegetables are started from seed in the greenhouse and grown organically.
In 2011  she installed a 26 x 68 ft high tunnel purchased through NRCS (National Resources Conservation Services).  She also has 140 blueberry bushes, some of which she got from a grant given to her by Heifer International, a new program the organization has instituted for beginning farmers. And of course, there are the apple trees. Today she has over 40 of the old reclaimed, thus far unidentified, and a dozen of Liberty and Northern Spy semi-dwarf trees planted three years ago.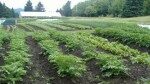 The North Country of New Hampshire is difficult," she admits "not only because of the weather–we are overcoming that–but the population is behind in understanding organic growing and its importance to land and human health. Economics," she continues, "prevents the areas' large hotels, like the Balsams, from using local ingredients and it seems a shame not only for the future health of the local economy and population, but, also as a source of education for their visitors. They should be able to cut corners other than on food quality and education."
Apple Haven Farm
Patricia Craig
839 Piper Hill Road
Colebrook (Stewartstown), NH (03576)
603-246-3438
Retail:
Retail (direct to the customer) From the farm
Two Colebrook farmers' markets
Wholesale: (Bulk sales to restaurants, schools, and markets
Restaurants in Colebrook, Pittsburg and Lake Wallace at Canaan, Vermont; public schools in Stewartstown and Pittsburg, Upper Ct. Valley Hospital in Colebrook North Conway, NH markets through New Hampshire Institute of Agriculture & Forestry
Top two photos provided by: Leslie Tuttle (www.leslietuttle.com)
Bottom photo provided by: Apple Haven Farm