By Helen Brody (June 28, 2013)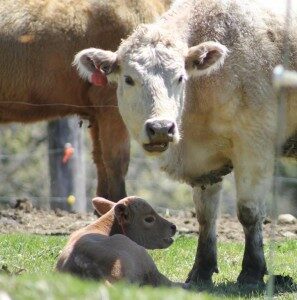 From Beryl Mountain View's Facebook Page
When the Marlow Stoddard fire devastated Henry and Hazell McCue's homestead 73 years ago, rather than give in to despair, the couple responded in the tradition of farmers the world over; they started anew. Without dwelling on what had befallen them, the McCues bought a small dairy operation which they christened Beryl Mountain View Farm. What Henry and Hazell could not have envisioned were large shaggy beasts that today are the very heart and soul of Beryl Mountain View Farm.
According to Hazell Fuller, a co-owner of the farm, "origins of the international beefalo breeding date back to the 1880s but modern day interest took off in the 1970s when farmer/breeders were able to interbreed and break the fertility barrier of the combined species and to produce fertile beefalo hybrids."
In the 1990s when the McCue's daughter, Marion Ingoldsby got word of the successful hybrid cross, she immediately began to unearth what was up with this strange, new combination. What she learned was a revelation—that the meat of the beast had the low fat and cholesterol of the bison and the delightful flavor of beef. Appreciating the health benefits of this unusual new meat, and certainly not lacking in gumption, she went on to meticulously develop a herd of registered full blooded beefalo making Beryl Mountain View Farm one of the first in the Northeast to breed and sell them.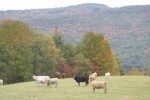 The farm, today managed by Marion's offspring, is located on a wooded hillside with rocky granite ledges, pastures, streams, hayfields, and a sugar bush, all of which are ideally suited for the grazing habits of this bison-cow mix. "The beefalo, thanks to the bison influence, are able to forage a wide range of roughage that traditional breeds won't eat and, by extracting valuable nutrients, are able to turn it into usable weight gain," saysHazell. "They trim down the small samplings and brush and take care of the undergrowth in the maple orchard very efficiently." Their taste buds are not their only attribute as a farm crop. A dense coat, inherited from the bison, makes beefalo tolerant of New Hampshire winters. An open barn allowing them to move in and out at will is all they require for shelter. During the winter months the family supplements their foraging diet with hay.
Beryl Mountain View processes meat at a USDA facility as demand requires and it is available at the farm for purchase. When purchased by the side, the processed beefalo meat (from the smaller animal) will fit into a household freezer making it affordable and easier for the average family to accommodate.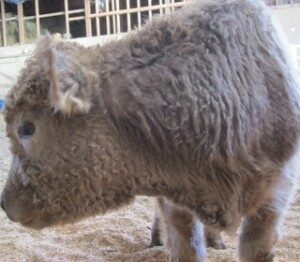 Beryl Mountain View Farm
John and Hazell Fuller
Robert J. Ingoldsby
 Farm address:
149 Milliken Brook Rd
South Acworth, NH  03607
Telephone: 603-835-2246, Friday-Sunday – ask for Bob or Peter
 Office: (meat also available here by appointment)
546 Forest Road (rte 123)
Alstead, NH
603-835-6509 (ask for Hazell)
Retail: Freezer meat pick up at farm, pre-ordered custom cut, cryovaced, USDA inspected