By Martha Esersky Lorden (December 6, 2015)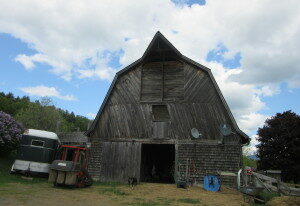 Perched high on Paget Road in Cornish, New Hampshire, is an award-winning farm. Its grassy terraces cling to the steep hillside beneath the monumental shadow of Vermont's Mount Ascutney. The complex, at first glance, reads as a traditional small New England farm with main house, barnyard, and lush open pastures, but a very modern philosophy powers the life of this 60-acre farmstead.
As recipients of Sullivan County's Cooperator-of-the-Year Award, the Gallagher family's Many Summers Farm completed a long-term project for a drainage and filtering system correcting a rainwater overflow into their barnyard. The ingenious bit of engineering used gutters, underground pipes, drains, and filters to limit pollution and capitalize on roof and manure runoff for use in their vegetable gardens. The project was a modern example of conservation, preservation, and protection of the environment.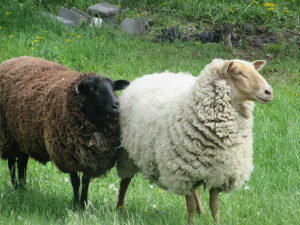 Back in the 1970s, Bill Gallagher and Sally Wellborn came to Paget Hill in search of a lifestyle connecting them to the natural environment. They raised goats and chickens and lived in a teepee while they built the main house. Never intended as a commercial venture, their farm's livestock and produce sustained them.
Today, Bill and Sally still reside on the farm, but their son Gwyn and his wife, Heather, are the farm's proprietors. Gwyn and Heather live on the upper floor of the renovated barn, conveniently situated above a milking area and state-of-the-art cheese room. Gwyn, an arborist, owns Gallagher Tree Service, and together with Heather manages an impressive array of livestock. They have transformed Many Summers Farm into a modest commercial enterprise specializing in grass-fed beef, pasture-raised chicken and pork, and artisan raw milk cheeses and yogurt.
In a cozy, oblong plot in the pasture, a litter of piglets feeds on grass and root vegetables. Nearby, a small herd of cows and bulls lazes and grazes. Heather uses a controlled, efficient, rotating grazing system with portable fences that allow the livestock to forage freely in flexible-sized paddocks.
"A grass-fed herd enjoys an unlimited salad bar," says Heather. "Their foraging will be converted into rich milk and meat." The herd spends most of its time outside throughout the year. While Heather milked Devon cows for six years, she now breeds cattle almost exclusively for sale as grass-fed beef and breeding stock, preferring to purchase organic milk for making cheese and yogurt.
You won't find a Many Summers Farm booth at local farmers markets. The Gallaghers are focused presently on developing their Meat, Cheese, and Pantry Farm Share program for consumers, a collaboration with Stone Fence Farm of Unity, New Hampshire. Both farms share a commitment to thoughtful land management and high-quality, local, and sustainably produced food for the community. Participants can buy into three types of monthly farm share programs: Homesteader, Sharecropper, or Ploughboy plans. In this CSA of sorts, the mission is first and foremost about lifestyle.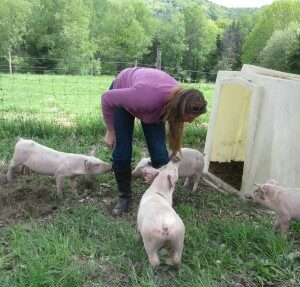 "We do this because we want people to know where their food comes from," says Heather. "We are not driven by profit." Other farm projects in the works include building a cheese cave, offering cheese-making workshops, and creating efficient power sources to run coolers. Also, they hope to host farm-to-table dinners for families.
For the Gallaghers, land stewardship is not so much a livelihood as a way of life. They want to keep their farm small while expanding their connection to folks who share their vision, are committed to eat locally, and aspire to be stewards of the land.
Many Summers Farm Gwyn and Heather Gallagher 113 Paget Road Cornish, NH 03745
603-675-2200
Retail: Direct to customer sales through Meat, Cheese, and Pantry Farm Share in collaboration with Stone Fence Farm of Unity, NH
Wholesale: Beef, yogurt, cheese, breeding stock (Bulk sales to restaurants, markets, and stores)
Martha Esersky Lorden is a food writer, culinary historian, and cookbook reviewer for Publishers Weekly and BlueInk Reviews. She teaches classes in food history for Osher@Dartmouth and the Hanover Consumer Co-op and owns Kitchen D'Or, a personal cooking service.