The mission of the New Hampshire Farms Network is to strengthen the connection between New Hampshire farmers, businesses and consumers by developing a greater public understanding of the importance of farming for food security, community health, economic development, and land conservation.
The network's goal is the education of our citizens about the important role that farms play in the preservation of New Hampshire's financial health and of the rural landscape which draws visitors to travel and enjoy our state.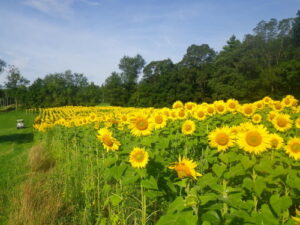 Objectives:
To educate the general public about the locations and stories behind the state's farms and the benefits of supporting them, such as furthering the development of a food self-sufficient local economy, land conservation, and a healthy and flavorful family diet.
To encourage the public to buy locally produced products before any others and to motivate consumers to visit farms that encourage visitors.
To encourage public support of businesses that sell and/or use local farm products.
To grow NewHampshireFarms.net as to further benefit its mission to preserve the state's farmland, farm history, and local food sources.
At the New Hampshire Farms Network, we believe that connecting farmers, businesses, and consumers is essential to promoting a strong agricultural community in the state. That's why we created our farm directory, which serves as a valuable tool for connecting people with local farms and products. With our farm directory, we're able to facilitate connections and promote the growth of our state's producers.
In addition to our farm directory, the New Hampshire Farms Network is establishing a hemp seed bank to support farmers interested in growing hemp. Hemp is a versatile crop that can be used for food, fiber, and medicine. Our upcoming seed bank will offer a range of cannabis varieties suitable for different growing conditions and end-uses, allowing farmers to select the best option for their operation.
Through our initiatives like the farm directory and hemp seed bank, we're working towards a future where local farms are supported and celebrated, and the benefits of buying and eating locally are widely understood.
If you would like to learn more about the New Hampshire Farms Network or get in touch with us, please visit our contact page or email info@nhfarms.net. We welcome your feedback and are always happy to connect with individuals and organizations interested in supporting local agriculture.