By Jessica Boynton (January 23, 2013)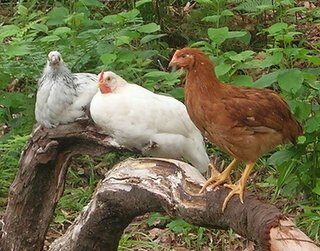 In 2003, wanting to blend their off-the-farm working lives and hobbies with a goal of food self sufficiency, Spencer and Sabrina Powers began  life together on a 3 ½ acre property in Canaan, New Hampshire. In 2010 they named the farm after watching a black bear visit their bird feeders.  They began by planting  a large vegetable garden, then came adding fruit trees and berry bushes. Raising a few chickens for eggs and meat seemed the next logical step to food self sufficiency.  "It rapidly became apparent," says Sabrina "that our initial flock of 25 chickens produced too many eggs for the two of us."
Given the popularity of their eggs among their friends, they reached out to local businesses inquiring if there was interest in their farm fresh eggs.  Interest was high, particularly at several farm stands, and demand increased to where they did not have enough eggs despite expanding their flock size several times. And says Spencer, "Since neither of us was willing to face the wrath of our customers or give up our own fresh egg supply, we became committed to having  the highest quality product while  growing our farm and flock using sustainable practices."
By 5:30 am each morning, Spencer is out the door with a collection basket in hand, collecting eggs from the three coops that cross their property.  Sabrina collects them a second time in the afternoon after work. During the winter months, she allows them to warm up inside before washing and packaging, according to size, in brand new cartons.  They light the coops to provide the birds with enough daylight to encourage the production necessary to meet their customers' needs. The couple randomly candle to insure interior quality and store them in a garage cooler awaiting Friday deliveries.
To ensure the production of the best eggs possible, Spencer and Sabrina attended courses hosted by the UNH Cooperative Extension and the University of Maine on egg quality and commercial egg producing.  With a background in science and medicine (Sabrina is an oncology nurse at Dartmouth Hitchcock Medical Center) food safety is a priority.
Bear Knoll Farm has 350 Golden Comet laying hens, a hybrid between a White Rock female and a New Hampshire male, which they maintain as free range birds. Food, water, shelter, and access to the outdoors are always available. They are raised without antibiotics or hormones and fed locally produced grain along with organically grown vegetables from their garden.   The couple plans on expanding their flock size again this year to meet the uptick in seasonal sales.  In addition to laying hens, they raise Cornish Cross broilers during the summer and process them on site to minimize stress to the birds. They are sold only from the farm and the couple prefers advance orders to always have enough product on hand.
Two challenges that the Powers couple continually face are finding year-round consistent markets for their eggs and the lack of a NH-based or nearby USDA certified chicken processing facility.  "It's hard to have a sales price low enough to be accepted by many restaurants and  we simply can't afford to drive all the way the Westminster, VT processing plant to drop off and pick up."  Facing this reality, the couple has begun investigating the construction of their own USDA facility.
But, no matter what comes in the future, Spencer and Sabrina Powers will remain committed to a well-cared for locally grown product with a growing customer base.
Bear Knoll Farm
Spencer and Sabrina Powers
55 W Farms Rd Canaan NH 03741
603-304-5030
Retail: (direct to customer sales)
Broilers (fresh or frozen) and eggs. (Call or e-mail ahead for advance orders –farm will store processed product)
D'Acres Winter CSA, Dorchester, NH
Wholesale: (bulk sales to markets, restaurants, stores & schools)
The Lebanon Co-op, Lebanon, NH The Upper Valley Co-op, White River Junction, VT Cedar Circle Farmstand, Thetford, VT ( seasonal) Killdeer Farmstand, Norwich, VT (seasonal) Dan and Whit's, Norwich, VT The Grafton Country Store, Grafton, NH Lebanon Health Food Store, Lebanon, NH The White River Co-op, White River Junction, VT Local Foods Plymouth, Plymouth, NH Mariam's Restaurant, Windsor, VT The Blue Horse Inn, Woodstock, VT The Woodstocker Inn, Woodstock, VT
The Village Inn of Woodstock, Woodstock, VT
The author of this article, Jessica Boynton, graduated from Antioch University New England in 2010 with a Masters in Environmental Studies and a Biology Teacher Certification.  Since graduation, she has volunteered at farmers markets, worked on farms, and coordinated farm related projects in the Monadnock and Seacoast regions as part of an effort to increase her knowledge about NH  agriculture and its food system. She currently writes for the New Hampshire Farms Network and resides in Plymouth, NH.