By Helen Brody (March 18, 2014)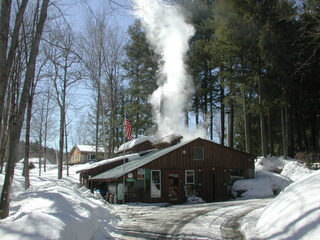 (Please note: The Messers have retired from the sugaring business since 2016)
Two-thousand thirteen was the second time that Orford's Sunday Mountain Maple Farm, a New Hampshire Farm of Distinction, received the New Hampshire Maple Producers' Carlisle Trophy for the state's best syrup. Given for the 2012 crop, the annual reward is named for Lawrence A. Carlisle, a former commissioner of New Hampshire agriculture, who introduced the maple grading system. Sunday Mountain also won the trophy in 2008. "We are very pleased and proud," says owner Paul Messer. "It is a great honor to receive such an award from your peers."
In addition to 200 taps behind his farm's sugar house, Paul, a retired Hanover police officer, trucks in his sap from 3000 taps on Cube Mountain east of his farm's gathering point and four miles away from his sugar house across from Sunday Mountain. Even during the coldest months of January and February, he  can be found working in the woods keeping  his tubing free of snow, clean, and in good repair. Tubing stays in the woods year round, thus mother nature and her living creatures cause damage needing repair.  Paul stresses the importance of cleanliness for quality maple syrup. Wife Betty is available to  hand him the tools for repairs and to keep him company in the desolate winter forest.
The rich Cube Mountain soil provides healthy food for the trees and gives the prize winning syrup its rich flavor. To preserve his 50 to 100 year old trees Paul uses health spouts which yield slightly less sap than the traditional hole,  but the holes  close faster  for quicker healing of the tree and less chance of infection or disease setting in. To further protect his trees, the plastic taps are placed at a different locations each year.
When the daytime temperatures reach into the 40s and the night temperatures fall into the 20s, the sap begins to flow and Paul starts the  gathering of sap by tank truck from a holding tank placed at the foot of the mountain.
At the sugar house, the sap is run through a filter and processed by reverse osmosis which concentrates the sugar and makes the sap ready to go into the evaporator. There it becomes rich maple syrup and  in a matter of hours is ready for packaging. The entire family steps in at different times during maple season. Betty is the taste tester and is in charge of the sugar house sales. Sons and son-in-law are available to help at any point during the season and the entire family gathers to help out on Maple Weekend, always the last weekend in March, to serve  sugar-on-snow,  known by our ancestors as "leather britches."
Sunday Mountain Maple Farm Betty and Paul Messer, Sr. 2827 Rte. 25A (one mile east of Rte 10) Orford, NH 03777 603-353-3883 (l/m on answering machine if no answer)
Point of sale: Farmstand year around