By Helen Brody (February 6, 2011)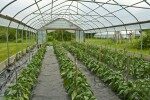 David and Andrea Craxton are romantics, which explains why David says, "Part of planting for me is poetry. I often plant by the color of the vegetables or their leaves, and certain vegetables remind me of people. So when I plant, I think of them." His wife, Andrea, who happens to be a practicing poet and artist herself calls on her singular talents by working the land with him and supporting his growing ventures. The results are gardens that are not only visually beautiful but are remarkably productive.
But lest one assume that David and Andrea are totally consumed by their romantic vision, their approach is laced with both logic and science as befitting David's background as a chemistry major. Of the ten acres of fields that David and Andrea own, the couple have 1½ acres of certified organic vegetables under cultivation. "We grow a diversity of crops," and he notes that "we plant according to the soil chemistry in different areas of our fields."  It doesn't pay to work against nature, a fact that would spawn knowing nods from any experienced farmer.  "And," he repeats, "you must plant according to the soil." Each year the couple grow over 200 different varieties of vegetables with their biggest sellers being tomatoes, potatoes, and garlic, offering  30 or so varieties of each.
Grass clippings are a part of the organic soil make-up in David's "chemistry set."  Andrea mulches with the clippings between the rows of plants as she mows the grass around their nine garden plots. David feels the depth of clippings must be at least 3-6 inches. A mile of drip irrigation hoses are spread throughout half a dozen gardens and hoop houses for economical water management, both from the standpoint of cost and the environment. Drip hoses feed water directly into the soil and prevent water from dissipating into the atmosphere. The hoses also help to control fungus often caused by dampness on the leaves of vegetables.
Attached to their home is a greenhouse where the Craxtons start and harden off seedlings for transplanting to their fields. There are two hoop houses where the couple grow  tomatoes, basil, and peppers. Amongst other sheds for storing things like his equipment, one is  used for drying his heads of garlic which dates back to when David began farming in Dalton 30 years ago. "At that time," he says, "I could not give garlic away, but with the hype about its health benefits and the growing interest in using it in cooking, garlic has become one of my best sellers." He grows both the hard and soft neck varieties. All told, he grows 32 varieties.  The soft kind is not only a better keeper, it can be braided and doubles as a kitchen display.
David's first garlic was a descendant of a hardneck type called Russian Red, and he has tweaked its size, color, and flavor.  The garlic is attaining terroir,  the development of unique characteristics derived from the particular soil, climate, and attentive cultivation practices, over time.  David also sells garlic seed stock and, in fact, the son of a friend is currently growing some of his stock near Gilroy, California. There is prestige in this sale, as Gilroy's claim to fame is that of   "garlic capital of the world."
In a column she wrote for the Coos County Democrat, Andrea says that "each year David conducts trials to see which new vegetables tolerate his mini-climate (a frost pocket) and his sandy soil.   In recent years he has experimented with peanuts, soybeans, fava beans,  and sweet  potatoes, all of which "have done surprisingly well."
Wheat is David's newest venture which he started in 2010 when he planted a test plot yielding seven pounds of grain. "We grind it as we need it in a flour mill that we were given as a wedding present 30 years ago,"  said Andrea, "and the fresh flour has been the basis of some mighty fine pancakes." The Craxtons are investigating growing more and need to find equipment for small-scale threshing and cleaning.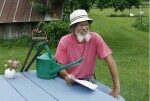 David's interest in farming began during college when, with his major in chemistry, he developed a keen interest in enriching soil through natural compost. In 1980 he and Andrea bought their farm a mile from the Connecticut River. The soil is sandy with few rocks. "We have ideal growing conditions here," he says without being able to suppress a smile. "Organically fortified, sandy soil is loose enough to allow the roots to grow comfortably."  For several years they sold their produce to restaurants, roadside stands, hotels, grocery stores, and wholesalers. By 1990 the farm had become certified organic, and two years later they began a Community Supported Agriculture (CSA) program. They no longer have a CSA, but they now sell their products at the Lancaster Farmers' Market where there are 30-40 vendors with 12-15 of them selling produce.
That old rural standby, word of mouth, works not only to sell but to also show how to cook the more unusual vegetables. "A source of joy to me is to deliver social connections," said David.  "Ethnic customers enjoy celeriac, lemon grass, and chili peppers, and other customers overhear conversations about ways to cook with them."  Nor is he averse to giving out his own ideas—scapes, the long narrow green stalks that form a seed head from the garlic plant, give interest to a flower arrangement, for example.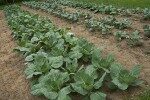 David has grown vegetables since 1973 and has sold at farmers markets for 18 years. He appreciates the nutritional and aesthetic value of fresh, clean produce.  He's come to realize the amount of time, care, and expense a farmer must invest to successfully grow and market quality vegetables. It matters to David that local folks can have wonderful food to eat, especially the children. It will take a large number of producers to supply the fresh food needs of the North Country's communities.  To that end, in 2009 Andrea wrote a monthly gardening column in the Coos County Democrat, promoting gardening and suggesting ways readers can grow some of their own food.  David has spent a lot of time with several local growers, sharing his experience, encouraging them to become vendors, and hoping that they will be paid what their hard-earned local vegetables are worth. David believes that "customers are beginning to understand farming costs and are willing to pay for preserving the land that gives the flavor and health benefits that our vegetables provide."
Roots & Fruits Farm David and Andrea Craxton 238 Whitefield Rd. Dalton, NH 03598
603-837-2383
Retail:
Lancaster Farmers' Market
Photos: Leslie Tuttle (leslietuttle.com)