Home » Farm & Food Events, Local Food & Farm Buzz
NH Farms Network at the NH Farm & Forest Expo
By Helen Brody (January 12, 2016)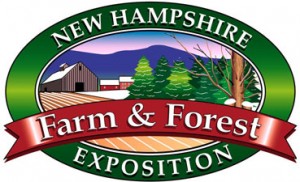 New Hampshire Farms Network's (NHFN) booth #510 will be among the 100 exhibitors featured at this year's New Hampshire Farm & Forest Expo, New Hampshire's "Greatest Winter Fair" on Friday & Saturday, January 22 & 23.
Stop by our booth to view photos of farms profiled on our website and meet NHFN writers to talk about their farm experiences. NHFN's board members and volunteers will be available for questions as well.  The booth will also be part of FARMO, bingo style game for children to learn about agriculture.
We believe that by creating public awareness of the state's farm histories, experiences and agricultural beliefs, we help build an understanding of the important role farms play in the state's economy, community health, and land preservation.
This year, NHFN will host a program on Saturday at noon titled "How Do Women Farmers Contribute to New Hampshire Agriculture." The program features the stories and history behind the recently published book New Hampshire Women Farmers: Pioneers of the Local Food Movement, written by NHFN's president Helen Brody with photography by photo-journalist Leslie Tuttle.  There will be a book signing and a copy of the book will be raffled off at the event and at NHFN's booth #510.
Book signings will occur at the Friday Farmers' Market, 3 -7 p.m. and again after the panel discussion titled "Women in Agriculture: Managing the Health & Wellbeing of You and Your Farm" at 4 p.m.
View the full Expo schedule.
Please note: Due to the 2016 Primary election, the Expo is two weeks earlier this year.
---
For additional news on New Hampshire Farms, agriculture,
and seasonal events, follow us on
Facebook