Home » Farm & Food Events, Local Food & Farm Buzz
Historical Society of Cheshire County Annual Meeting & Presentation: New Hampshire's Women Farmers
By Andrea Cheeney, Historical Society of Cheshire County (April 14, 2016)
In June of 1889, forty-five year old Addie Noyes recorded daily activities occurring on her farm in Westmoreland in her personal diary.  Over a span of four days, she and others worked to hoe beans and sweet corn, trim cherry trees and cut stumps, care for hens and newborn chicks, mend clothing, interview and settle on someone to hay her fields, clean out the pig yard, borrow ice from neighbors to cool the cream for butter-making, brine meat,  bake bread and pies, go to Keene to purchase goods and get the mail, take in an overnight traveler, and do business with a Yankee peddler.  Yet Noyes' diaries also reveal something quite different from other farmers' diaries of that time – the thoughts and struggles of a female farmer.
The Historical Society of Cheshire County preserves, in its archives, a collection of dairies once belonging to Adeline "Addie" Noyes and her sister Persis "Maria" Noyes, two women operating their own farm at the turn of the 20th century.  Addie's diaries, in particular, cover the period from her father's last illness and death in 1888 to 1895 (five years before her own death).  In partnership with Keene State College's women's studies program, seven students have been transcribing the diaries on a weekly basis, assisting the Society with its goal to share Addie's experiences online and use the diaries for educational programs.
While the number of female principal farm operators in New Hampshire was considerably low in the late 19th century, it is surprisingly high today.  New Hampshire currently ranks third in the nation in the percentage of women farmers, transforming the identity and role of farmers in the Monadnock region and on a national scale.  The 2015 publication New Hampshire Women Farmers, by Helen Brody and Leslie Tuttle, showcases many of the women revitalizing farming and developing new markets for locally grown food, including Fitzwilliams' Tracie Loock of Tracie's Community Farm.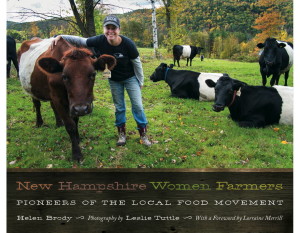 On Monday, April 25th at 7:00 p.m. the authors Helen Brody and Leslie Tuttle, along with local farmer Tracie Loock, will be the guest speakers at the Historical Society's annual meeting of the membership where they will discuss the contributions of NH's women in agriculture.  Ms. Brody is the president and founder of the nonprofit educational website New Hampshire Farms Network, a dairy farmer, and an agriculture journalist.  Ms. Tuttle is a social documentary photographer who has worked for Oxfam America and Partners in Health.
---
For additional news on New Hampshire Farms, agriculture,
and seasonal events, follow us on
Facebook