Home » Revised Farm Profiles
Taylor Brothers Sugarhouse & Creamery, Meriden Village, NH
By Helen Brody (March 20, 2013)
In 1970, Steve and Gretchen Taylor started Taylor Farm so that their sons Jim, Bill, and Rob – The Taylor Brothers – could grow up as Steve had, on a small New Hampshire farm. Not only was Steve's father, Lawrence, a popular high school History teacher and scholar, but he was intensely connected to the land on which his homestead sat; tending to the cows and sheep in his fields and vegetables in his garden; and proud to treat his family and guests to dinners made from food he had harvested from his own property. Steve grew up sharing his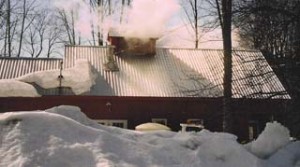 father's passion, and as Commissioner of Agriculture for the State of New Hampshire for 25 years, further showed his own commitment to the preservation and celebration of an old New England way of life.
Got Milk?
Over the years, not only did Jim, Bill, and Rob grow, but so did Taylor Farm. After the decline of the domestic wool market in the early 1980's, the sheep that first grazed in their fields gave way to dairy cattle. Today, their herd stands at over 120. They milk about 60 Registered Milking Shorthorn and Holstein cows twice daily.
Got Cheese?
Until 2009, nearly 100% of their milk was shipped in bulk to their cooperative, becoming a part of the line of Agri-Mark products. While much of 3,000 pounds of milk they produce each day is still destined for your next pound of Cabot butter, a small portion is reserved to bottle their whole, cream-like milk, and to make their signature line of artisan cheeses produced in their new Creamery. They offer three varieties of cheese: Mill Hollow Gouda, Evelyn's Jack, and Cloverland Colby.
Got Maple?
The Taylor Brothers maple operation got its start when, for fun, Jim, Bill and Rob tapped some maple trees in the neighborhood with Steve, borrowed an old canning pot from Gretchen, built an arch of concrete blocks, and began boiling sap in the backyard. Their syrup business was born! Over the years, they've increased the number of taps, upgraded their equipment, and through the brothers' college years, developed a passion for making high quality syrup and other pure maple products. They expanded significantly in 1992 when they tapped a nearby sugarbush and invested in the new equipment needed to handle the far-larger volume of sap. In 2002, they completed construction of their new see-it-made sugarhouse with gift shop and goodies counter.
Today, a fourth generation of Taylors joins in the hard work and healthy fun that farming in an old New England village can bring.
Taylor Brothers Sugarhouse and Creamery
166 Main Street
Meriden Village, NH 03770
603-469-3182
http://www.taylorbrotherssugarhouse.com
Retail: (direct to customer sales)
Taylor Brothers Farm store
Lebanon Farmers' Market
Hanover Farmers' Market
Wholesale: (bulk sales to markets, restaurants, stores & schools
Meriden Deli Mart, Meriden, NH
Anne's Country Convenience Store, Plainfield, NH
Hanover and Lebanon Co-ops
Evan's ExpressMart, Enfield, NH
Round Barn Shoppe, Piermont, NH
Edgewater Farm, Plainfield, NH
Enfield Shaker Museum, Enfield, NH
Everybody's Farm Market, Lebanon, NH
Hemingway's Market, Charlestown, NH
Garfield's Smokehouse, Meriden, NH
Poverty Lane Orchards, Lebanon, NH
Riverview Farm, Plainfield, NH
Rum Brook Market, Grantham, NH
Spring Ledge Farm, New London, NH
West Lebanon Feed & Supply, West Lebanon, NH
Four Ace's Diner, West Lebanon, NH
---
For additional news on New Hampshire Farms, agriculture,
and seasonal events, follow us on
Facebook