Home » Farm to Kitchen
Baked Tomato Halves
By Helen Brody (July 14, 2015)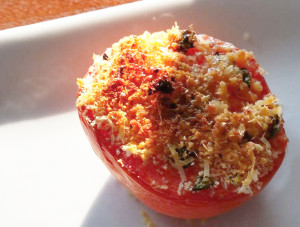 Here's an easy version of a popular summer dish.
3 medium sized tomatoes (about one pound)
3 tablespoons freshly grated Parmesan cheese
3 tablespoons toasted bread crumbs
2 tablespoons olive oil
salt and pepper to taste
Add-ins:
1 tablespoon chopped fresh parsley, basil, cilantro, thyme leaves
2 tablespoons grated mozzarella
Dried seasonings such as: thyme leaves, sage, oregano
Preheat oven to 375 degrees.  Slice tomatoes horizontally through  the center. Mix bread crumbs with Parmesan, salt and pepper and any other of the suggested  seasonings. Spread bread crumb mixture evenly over cut tomatoes. Spoon olive oil over tomatoes and place them in a shallow oven proof dish. Bake 20-30 minutes, depending on how ripe the tomatoes are.
Yield: Six servings
---
For additional news on New Hampshire Farms, agriculture,
and seasonal events, follow us on
Facebook