Home » NHFN Updates
Helen Brody honored with Andrew L. Felker Award
By Anne A. Cushman, NHFN Board Member (February 10, 2015)
Lebanon, NH,   February 9, 2015 —  At a ceremony on Friday, February 6, the Farm and Forest Expo board honored Helen Brody, New Hampshire Farms Network founder, with the Andrew L. Felker Award.  Governor Maggie Hassan and Commissioner of Agriculture Lorraine Merrill were among the guests at the ceremony in Manchester which was held in conjunction with the 32nd Annual Farm and Forest Expo.
Brody is the founder of New Hampshire Farms Network, a non profit educational web site whose mission is to strengthen the connection between New Hampshire farmers, businesses and consumers by developing a greater public understanding of the importance of farming for food security, public health, economic development, and land conservation.

About the Andrew L. Felker Award
Named for New Hampshire's first Commissioner of Agriculture, the award is granted annually by the New Hampshire Farm and Forest Expo Board and recognizes distinguished achievement in fostering the economic advancement of agriculture in New Hampshire.  Brody joins distinguished recipients in receiving this honor including Lorraine Merrill, New Hampshire Commissioner of Agriculture, Markets and Food, and Charlie Burke, President NH Farm to Restaurant Connection.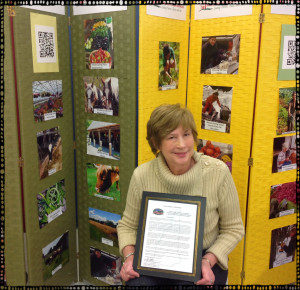 'I am honored to have received this award,' says Brody, adding 'and particularly thrilled because the recognition will bring increased attention to NHFN and our mission of supporting New Hampshire agriculture.'
About New Hampshire Farms Network
Linking Farms, Food and You
NHFN features farm profiles – each telling a story of the farm and farmer and the benefits of supporting them.  The site also includes a calendar of agricultural events and farmers markets,  a section on the vital role of women in New Hampshire farming, recipes using local ingredients, links to New Hampshire Food System Builders and more information to fulfill the mission.
NHFN is the only assemblage of agricultural information like this serving New Hampshire and, as a result, has become the go-to source for farmers, state residents and tourists, and the Department of Agriculture, Markets and Food.
---
For additional news on New Hampshire Farms, agriculture,
and seasonal events, follow us on
Facebook