Home » Local Food & Farm Buzz, NHFN Updates
NHFN receives Grant from Farm Credit Northeast AgEnhancement
By Anne A. Cushman (January 13, 2015)
NEW HAMPSHIRE FARMS NETWORK
Receives Grant from Farm Credit Northeast AgEnhancement  
New Hampshire Farms Network (NHFN), the educational, non profit web business Linking Farms, Food, and You, was recently awarded a grant from the Farm Credit Northeast AgEnhancement program.  The $1,000 grant will be used for booth space at the 32nd Annual Farm and Forest Expo in Manchester, NH, on February 6 & 7, 2015.
'Receiving this grant allows NHFN to plant the seeds for another great year of growth,' says Helen Brody, NHFN founder and Executive Director. Established by Brody in 2006, NHFN was granted 501(c)3 status in early 2014 with the mission to strengthen the connection between New Hampshire farmers, businesses and consumers by developing a greater public understanding of the importance of farming for food security, public health, economic development, and land conservation.
'We are thrilled to be exhibiting at the Farm and Forest Expo for the first time' says Brody, 'and are grateful to the Farm Credit Northeast AgEnhancement program for making it possible.'  The Expo gives NHFN the perfect opportunity to showcase its one hundred plus in-depth farm profiles and photographs on the site which bring New Hampshire farming to life.   The Expo, called 'New Hampshire's Greatest Winter Fair', includes the trade show where NHFN is exhibiting, free workshops and more.  For information on the Expo, visit http://www.nhfarmandforestexpo.org/.
About New Hampshire Farms Network
Linking Farms, Food and You
NHFN features farm profiles – each telling a story of the farm and farmer and the benefits of supporting them.  The site also includes a calendar of agricultural events and farmers markets,  a section on the vital role of women in New Hampshire farming, recipes using local ingredients, links to New Hampshire Food System Builders and more information to fulfill the mission.
NHFN is the only assemblage of agricultural information like this serving New Hampshire and, as a result, has become the go-to source for farmers, state residents and tourists, and the Department of Agriculture, Markets and Food.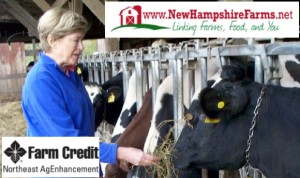 ---
For additional news on New Hampshire Farms, agriculture,
and seasonal events, follow us on
Facebook