Home » Local Food & Farm Buzz
NH Farmer's Market Association Hosts Winter Farmers' Market at Expo
By Tori Berube, New Hampshire Farm and Forest Exposition (December 28, 2015)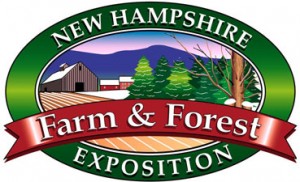 The NH Farmer's Market Association hosts a Winter Farmers' Market at the 33rd annual NH Farm & Forest Expo Friday, January 22 from 3 to 7 p.m. on the Expo Concourse at the Radisson Hotel in Manchester. The market, with ten expected vendors, is open to the public and free to attend.
Vendors from across the state include: Work Song Farm (certified organic vegetables), NH Mushroom Company (organically grown gourmet exotic mushrooms and dried mushrooms), The Fresh Plate (yeast breads, jams, jellies, mustard, and baking/cooking mixes), and Hickory Nut Farm (cave aged goat milk cheeses, yogurt, fudge and goat milk soap).
"We are pleased to host the NH Farmer's Market Association members during the Expo. These dedicated members exemplify "Growing NH's Future with Agriculture and Forestry", this year's Expo theme," states AJ Dupere, chair of the NH Farm & Forest Expo Board of Directors.
The non-profit New Hampshire Farm & Forest Exposition has been a winter standard since 1984. The Expo provides information and education on all aspects of agriculture and forestry by bringing the state's farming and forestry communities together to share ideas and views on industry needs, while providing a fun and interesting venue for the public to learn about these industries and their impact on life in New Hampshire.
The Exposition includes workshops and speaker programs, a large trade show featuring products, equipment and food, most of which is produced in New Hampshire and New England, exhibitor demonstrations and student competitions, musicians, a children's area with hands-on activities, and farm animals.
The New Hampshire Farm & Forest Exposition founding sponsors are the University of New Hampshire Cooperative Extension, the NH Division of Forests & Lands and the NH Department of Agriculture, Markets & Food.  For further information, please visit the Expo website at www.nhfarmandforestexpo.org or call (603)231-1396.
---
For additional news on New Hampshire Farms, agriculture,
and seasonal events, follow us on
Facebook