Home » Local Food & Farm Buzz
New Hampshire Ice Cream Trail Giveaway
By Jen Risley (July 24, 2014)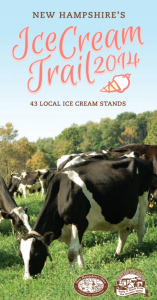 This month's NH Farm Network Raffle will help the winner jump-start their pursuit of conquering the New Hampshire Ice Cream Trail. We're raffling off gift certificates to four ice cream shops along the trail:
Plus one bonus ice cream shop not on the trail:
Want to enter this raffle? Like, comment and share our post about this giveaway on our Facebook Page before August 16, 2014.
Find out who the winner is next month and what we're giving away in our August e-newsletter.
Enjoy the season!
---
For additional news on New Hampshire Farms, agriculture,
and seasonal events, follow us on
Facebook