Home » Local Food & Farm Buzz
Help Us Strengthen Our Network: Donate to NHFN Today
By Helen Brody (December 17, 2015)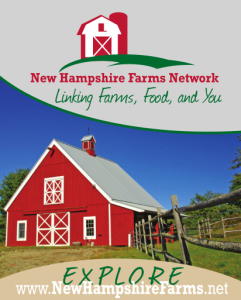 New Hampshire Farms Network provides a direct personal connection between the farmer and the non-farmer and is asking for your support.
Our educational website puts a face on New Hampshire farmers by speaking of where they live, how they live, and of the vegetables, fruits, meats, dairy, and the plants they grow. Our mission is "to create a better understanding of the importance of farming for food security, public health, economic development, and land conservation."
Over 100 farm profiles, farm location maps, a monthly e-newsletter, recipes, and more already help us fulfill our mission. Website visitation continues to rise with over 86,000 page views last year.
With your help, we can reach more individuals and achieve greater impact.  Help us reach our goal of a $20,000 match from the Jack & Dorothy Byrne Foundation. Donors of $1,000 or more will get recognized with their logo on the opening page of the website. All donors will be recognized on our Funders webpage.
There are two ways to contribute:
1.    MAIL TO: NHFN PO Box 83, 21 Spencer St. #404, Lebanon, NH 03766
2.    ONLINE: Via PayPal
---
For additional news on New Hampshire Farms, agriculture,
and seasonal events, follow us on
Facebook