Home » Local Food & Farm Buzz
Emerging Process to Develop a Food Strategy for New Hampshire
By Jessica Boynton (August 23, 2014)
Regional Gatherings Scheduled to Engage Participants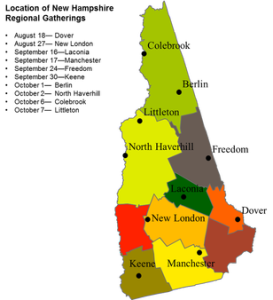 On Monday, August 18th, over fifty people gathered at Wentworth Douglas Hospital in Dover, NH to kick off a series of regional gatherings focused on the future of food in the Granite State. This first gathering launched the conversation about building a food system that strengthens our economy, responsibly stewards our cultural and natural resources, and contributes to the health and well-being of all NH citizens.  Participants included fishermen, farmers and other small businesses, regional planners, community gardeners, food assistance providers, market managers, politicians, local food advocates, and many more.
Currently, business leaders, state government representatives and regional food system advocates are looking for ways to coordinate efforts so that NH is better prepared to build a future food system that works for everyone in the Granite State.  On August 8th, Governor Maggie Hassan signed the Granite State Farm to Plate law, which supports local agriculture by outlining a set of principles that agencies and local governments should take into account when creating future agricultural policy. There is also increasing interest in working collaboratively among food systems sectors such as fisheries, public health, environmental planning, and farming to find 'win-win' actions and strategies for our state's food system.
"When citizens and businesses come together to build a broad network that draws from various sectors and regions throughout NH, we can learn from each other, leverage ideas and shape our food system so that it works for everyone in the Granite State," says John Hamilton from the New Hampshire Community Loan Fund who is a member of the NH Food Strategy Process Team.
By attending an upcoming regional gathering, participant will have the opportunity to learn about trends, data, challenges, and innovations in our food system, network with others doing work in the food system, and prioritize actions for reaching our food system goals.  Following the regional gatherings, a draft Food Strategy will be developed and made public early in 2015 to allow for additional feedback. This will also be an opportunity for participants to help develop concrete short and long-term actions, as well as identify individual and organizational roles for improving the food system.
Upcoming gathering locations include Manchester, Laconia, Keene, New London, Freedom, North Haverhill, Littleton, Berlin, and Colebrook and will take place between August and October of 2014.
For more information about the process, to register for regional gatherings, and to learn about other ways to get involved, visit our website, www.nhfoodstrategy.weebly.com.
About New Hampshire's Food System
By food system, we are referring to the infrastructure and processes by which our population is fed, and includes sectors such as production and harvesting, processing, distribution, consumption, nutrient and waste management, as well as overarching sectors such as networks and coalitions, policy, education and research, businesses, technical assistance and philanthropy among others.
About NH Food Strategy Effort
The NH Food Strategy effort is aimed at strengthening the emerging and already vibrant food system network in NH, by working with existing efforts and initiatives, gathering information and data, and working to develop a shared agenda and vision for building a New Hampshire food system that works for all in New Hampshire.  The overall goal of this effort is to develop a strong and connected network of organizations, institutions, agencies, businesses, and individuals that contribute to the NH food system.  Through a statewide participatory process, this network will create a food strategy that will identify shared goals and actions that will contribute to a robust, equitable, and healthy food system in NH. Now is time to build community, make connections across sectors, and leverage resources in order to promote health, well-being, thriving local economies, and access to food for NH citizens for generations to come.
About UNH Sustainability Institute
The UNH Sustainability Institute (UNHSI) is acting as a backbone organization for this effort.  As the backbone organization, UNHSI does not direct or dictate outcomes, but provides administrative and research support and facilitates meetings and communications among stakeholder representatives across the state.  Sustainability is a core value of UNH, shaping culture, informing behavior, and guiding our work. As a nationally recognized leader, the Sustainability Institute acts as convener, cultivator and champion of sustainability on campus, in the state and region, and around the world. Learn more at www.sustainableunh.unh.edu.
---
For additional news on New Hampshire Farms, agriculture,
and seasonal events, follow us on
Facebook