Home » Local Food & Farm Buzz
Book Signing Schedule & Table of Contents
By Christine Zinkand (August 22, 2015)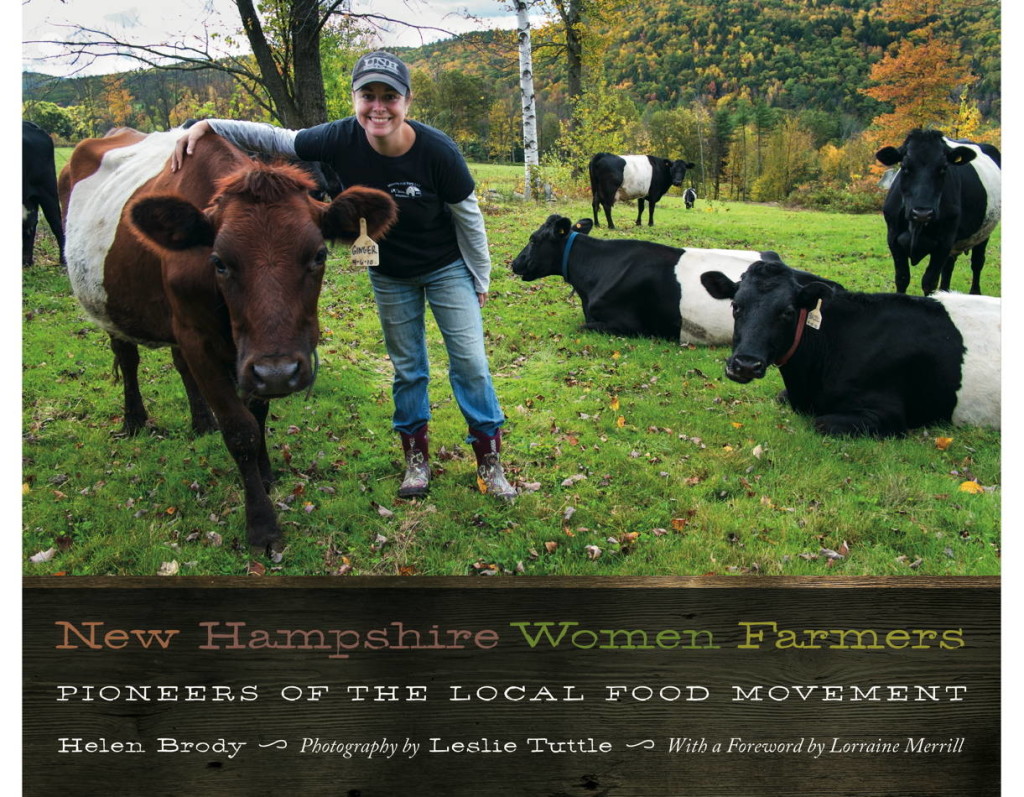 Book Signing Schedule
Book Launch!
September 9, 2015     Concord Public Library (with Gibson's Bookstore), 6 – 8 pm, Helen Brody, Leslie Tuttle, and (farm work permitting) a few featured farmers
September 13, 2015   MainStreet BookEnds of Warner, 2 pm, Helen Brody, Leslie Tuttle
September 17, 2015  Eastman South Cove Activity Center, Grantham, 12 pm, Helen Brody
September 26, 2015  The Toadstool Bookshop, Peterborough, 11 am, Leslie Tuttle
Stay up to date with upcoming book signings at New Hampshire Women Farmers on Facebook!
Table of Contents:
New Hampshire Women Farmers: Pioneers of the Local Food Movement
Foreward: Lorraine Stuart Merrill, Commissioner Department of Agriculture, Markets & Food
Introduction
WOMEN: THE FACE OF THE FARM
Farm Marketers: Center Stage
Suzanne LeBlanc, Autumn Harvest Farm & Quilt Studio, Grafton
Louisa Spencer, Poverty Lane Orchards/Farnum Hill Ciders, Lebanon
Kate Donald, Stout Oak Farm, Brentwood
Promoting Heritage Breeds and Heirloom Produce
Keira Farmer, Yankee Farmers' Market, Warner
Carole Soule, Miles Smith Farm, Loudon
Encouraging Year-Round Buying of Local Food
Donna Sprague, Huntoon Farm, Danbury
Donna Abair, Hazzard Acres Farm, Springfield
 WOMEN: CATALYSTS FOR FARM GROWTH
 Creating Imaginative Visitor Attractions
Nancy Franklin, Riverview Farm, Plainfield
Martina Howe, Beans & Greens Farm, Gilford
Focusing On A Single Traditional Farm Product
Heidi Bundy, Tomapo Farm, Lebanon
Sarah Costa, Manning Hill Farm, Winchester
Educating Children, Adults, and Politicians
Padi Anderson, F/V Rimrack and Granite State Fish, Rye Harbor State Marina
Diane Souther, Apple Hill Farm, Concord
Building Tourism: Farm Days, Fairs, and Food Trails
Walpole Valley Farms and the Inn at Valley Farms, Walpole
Cornish Agricultural Fair, Cornish
New Hampshire's Wine, Cheese & Chocolate Trails
New Hampshire's Ice Cream Trail
WOMEN: LAND PRESERVATIONISTS – WORKING FARMLAND
Keeping Family Land Productive
Mary Jones, Patridge Farm, North Haverhill
Kris Mossey, McLeod Bros. Orchards, Milford
Building Food Self-Sufficiency
Tracie Loock, Tracie's Community Farm, Fitzwilliam
Elaine Haynes, Haynes Family Homestead, Colebrook
WOMEN: OFF-THE-FARM SUPPORT
Agricultural Marketing for State Government:
Gail McWilliam Jellie, Director of Agricultural Development, New Hampshire Department of Agriculture, Markets & Food
Educational Efforts:
Schools:
Stacey Purslow: Farm to School Program Coordinator, Sustainability Institute University of New Hampshire
Business:
Mary Ann Kristiansen, Executive Director, Hannah Grimes Center for Entrepreneurship
Retail:
Rosemary Fifield, Director of Education and Member Services, Hanover Consumer Co-operative Society
Agriculture:
Amy Ouelette, Program Team Leader, University of New Hampshire, Co-operative Extension
Farm Interest Groups:
Naomi Scanlon, President, Associated Women of the New Hampshire Farm Bureau
Janet Wilkinson, Executive Director, Northeast Organic Farming Association of New Hampshire
Farm Product Distribution
Julie Moran, President and Manager, North Country Farmers' Co-op
Regional Support:
Sara Zoë Patterson, Coodinator and Board Chair Seacoast Eat Local
Order your copy of New Hampshire Women Farmers:  Pioneers of the Local Food Movement signed by the author and photographer today! Price includes shipping & handling.  A portion of the proceeds goes towards continuing the work of New Hampshire Farms Network.
---
For additional news on New Hampshire Farms, agriculture,
and seasonal events, follow us on
Facebook