Home » Gilmanton, Local Food & Farm Buzz
Book Review: Driving Backwards, by Jessica Lander
By Christine Zinkand (August 17, 2014)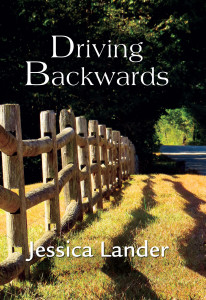 Within the first page of Driving Backwards (TidePool Press, 2014), Jessica Lander draws you into the world of small town New Hampshire.  Blending history, storytelling and farm life, Jessica captures the essence of the local "know your farmer" movement.  With Gilmanton, NH setting the stage, she recalls her time spent exploring Suncook River, Old Home Day, and listening to stories told by her beloved neighbor, David Bickford, who lived many of his almost 100 years in town.  Embracing the summer season, Jessica also describes her experiences at four Gilmanton farms, each with their own chapter.
"A Tiny Two Acres" takes you to the farm Tiny Tails, where tending to miniature horses, protecting blueberries from chickens, and designing braces for peach branches are all part of a day's work.  Join Jim and Cheryl Barnes as they combine their off farm careers with daily farm chores.  Find out how a Salesman/Minister and a Nurse/Reiki Master maintain their 2 acres to support small breed animals.
"Raising Kids" at Heart Song Farm has multiple meanings for Valerie Jarvis.  As a woman farmer, she has been able to raise 10 children and 65 goats, and turned her passion for goat's milk into a thriving goat cheese business.  A captivating story of a growing farm, growing family and hundreds of pounds of Camembert, Sainte Maure, Buttons, and even a Heart Song Farm Feta Secco.
"Raking for Berries" is a family affair at Geddes Farm.  The day starts with deliveries to a wholesale market in the wee hours of the morning, and hours spent raking blueberry bushes wind down with sorting in the evening.  Duncan, Barbara, Anna, Andy, and youth summertime workers keep this 40 year old summer tradition, supplying low bush blueberries to markets and locals alike.
"By the Shape of Their Hooves" is how Chuck Price recognizes any one of his 65 milking cows.  Come journey to this sixth generation dairy and maple farm, where Chuck, his son Jon, and Jon's son Caleb work on two daily rounds of milking to produce the 8,600 pounds of milk delivered to Cabot Creamery Cooperative every other day.  And don't forget to grab a tall glass of milk!
When asked at a book reading in Gilmanton about her interest in farms, Jessica noted that it is easy to get caught up in
everyday life, and she wanted to share the lives of farmers, the lives we don't always take the time to stop by and see.  New Hampshire Farms Network applauds Jessica's delight in exploration of the local farms that are such an integral part of the community she is so proud to belong to.
Driving Backwards is available at the following locations:
Gibson's Bookstore, Concord
Toadstool Bookshop, Peterborough
Country Bookseller, Wolfeboro
Innisfree Bookshop, Meredith
Also check out Jessica's blog, Chalk Dust.
---
For additional news on New Hampshire Farms, agriculture,
and seasonal events, follow us on
Facebook