Home » Food System Builders
Conservation Near for Historic NH Farm
By Press Release, Mount Grace Land Conservation Trust (August 29, 2015)
Olivia and James Pettengill have been running around the fields, woods, and barns that make up Wingate Farm, in Hinsdale and Winchester New Hampshire, ever since they were children. They grew up tending the vegetable gardens beside their mother, grandmothers, and great-grandmother on the farm, which the family is now working to permanently protect.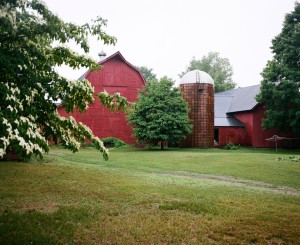 Wingate Farm covers 60 acres and, until recently, was jointly owned by sisters Carroll Pettengill and Alma Niemiller. Carroll's son Peter has been running Wingate Studio, an intaglio printmaking studio, in a converted dairy barn since moving there with his wife Deb in 1985. In 2011, the family approached Mount Grace Land Conservation Trust to see if there was a way they could protect the farmland from development in the event they needed to sell it.  Mount Grace introduced the Pettengills to Land for Good, an organization that helps farm families with complex issues of farm transfer and succession planning. After conversations with both groups, the family decided not to sell the farm, but to work with Mount Grace to conserve the land and pass the farm on to grandchildren Olivia and James Pettengill. "When my family first started working with Mount Grace, we thought it was likely we would have to sell our property, and we wanted to protect it from developers," explains Olivia Pettengill. "As our relationship continued we realized that there were more options and some of them would help us afford to stay on the property that has been in our family for over 80 years."
In 2012, Olivia, who had worked on farms for several years, moved back to Wingate Farm and began farming. Now Wingate Farm, Full Hearts LLP, consists of 700 pastured laying hens, hundreds of broiler chickens, eight forest-raised pigs, and diversified vegetable and flower production. The Farm sells at two local farmers markets a week, and has an egg share program in collaboration with neighboring Picadilly Farm, and Red Fire Farm. All of Wingate's products are raised using organic practices and paying close attention to the health of the land and animals.  "Now, in my third year of running the farm alongside my business partner Susan Parke-Sutherland, we are facing many of the challenges of young farmers trying to run a sustainable farming operation," adds Olivia. "Even with a generous background of hands-on farm experience, land and/or money are essential resources in being able to start up a successful and sustainable farm business. We are incredibly fortunate to have access to this land and to have a dedicated organization like Mount Grace help us protect it from development, while increasing the accessibility of prime farmland for future farmers."
Protecting the land took support from the USDA Agricultural Conservation Easement Program, the New Hampshire Land and Community Heritage Investment Program (LCHIP), The Russell Farm and Forest Conservation Foundation, the Tortuga Foundation, the Bromley Charitable Trust, The 1772 Foundation, and the Conservation Commissions in Hinsdale and Winchester, New Hampshire. "Personally I am thrilled about the Wingate Farm Conservation Easement," says Winchester Conservation Commission member John Hann. "Not only does it protect prime farmland soils considered to be among the best in the world, it also keeps this picturesque Pioneer Valley farm in the Pettingill family. I hope Wingate Farm and Picadilly Farm will serve to encourage others to conserve the remaining prime farmland in the historic Barber District of Winchester. This farmland easement preserves a way of life and enables farming to continue as a local economic engine."
The conservation partners now hope to raise $4,000 and to complete the project this summer. The family will then convey an agricultural conservation easement to Mount Grace, which is authorized to hold easements for the public benefit on behalf of the State of New Hampshire. Legal language in the easement prevents the land from ever being split apart from the house and barns—protecting the whole farm.
In addition, an option to purchase at agricultural value (OPAV) will be placed on the land. These
options are increasingly being used by land trusts to ensure that protected farms stay in agricultural production and in the hands of working farmers. The option allows Mount Grace to ensure that a sale of the farm would be to a farmer at agricultural value. Without this tool, farmers will continue—as is happening across the country—to get outbid by non-farmers, taking irreplaceable resources out of agricultural production. "The Wingate Farm project provides a wonderful example of a land trust's commitment to true protection of a farm," adds Ian McSweeney, Executive Director of the Russell Farm and Forest Conservation Foundation, which partnered with Mount Grace to complete the project. "The joint efforts of the partners provided tools, resources and technical assistance to complete a conservation easement and an option to purchase at agricultural value, while offering farm business and management support and planning, legal and financial advice, and much more. The Pettingill family is now able to continue to own the land long into the future and Wingate Farm is able to once again prosper."
This will be the first use of an option to purchase at agricultural value in New Hampshire. Now that the idea has been introduced, two New Hampshire land trusts are already developing what will be the next OPAVs in New Hampshire. "Massachusetts and Vermont have been using this type of agricultural option for decades to keep farms affordable and to stimulate local farm economies," says Mount Grace's Deputy Director David Graham Wolf, a Rindge resident. "I'm glad Mount Grace has the opportunity to be a catalyst for their use in New Hampshire."
Jamie Pottern, Farm Conservation Program Manager at Mount Grace has been having conversations with land trusts across the country about the need for employing more tools to keep protected farms in the hands of farmers. "Massachusetts and Vermont have led the way for the use of OPAVs in New England," she says. "They were seeing that conservation alone is not enough to save farms. By employing tools like the OPAV in New Hampshire, we can help our current and future farmers get on the land—this in turn helps towns protect their community heritage, increase food access, and strengthen rural economies."
For information please contact:
David Kotker, Development Manager Mount Grace Land Conservation Trust
(978) 248-2055 x 19, or kotker@mountgrace.org
---
For additional news on New Hampshire Farms, agriculture,
and seasonal events, follow us on
Facebook