Home » Dartmouth-Lake Sunapee, Farm Women, Grafton County (Plymouth/Hanover/Littleton Region)
Sheila Fabrizio, Windy Ridge Orchard, North Haverhill, NH
By Meghan McCarthy McPhaul (June 25, 2015)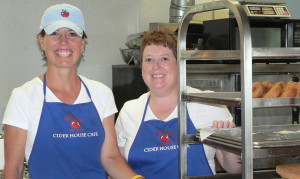 Sheila Fabrizio grew up happily immersed in the agricultural life. Her father worked for the University of New Hampshire Cooperative Extension, both parents ran the family's Windy Ridge Orchard outside their career jobs, and all five Fabrizio kids were involved in 4-H. But it was her journey to a far-away country that made her realize she wanted to come home to the orchard life.
"I certainly didn't go off to college thinking I would have a career in agriculture," says Sheila. "Probably the seed was planted when I was a kid, but it was really when I was in the Peace Corps in Senegal that I realized this is where I wanted to be."
As a girl, Sheila joined her brothers and sisters in raising and showing dairy cows through 4-H. She also started showing sheep after receiving one as a gift when she was about eight years old, and soon several sheep were sharing space with the cows in the Fabrizios' barn.
After earning a degree in business management from the University of New Hampshire, Sheila headed to Botswana with the 4-H International Farm Youth Exchange, traveling around the country for six months and working with the ministry of agriculture in schools there. Not long after her return, she joined the Peace Corps and went to Senegal, where she worked with a research organization to develop seed varieties and set up demonstration plots of corn, rice, and sorghum with local women's groups in different villages. The women then divided the seed to establish their own plots.
"I was in a very rural area, and everything was very family- and community-oriented, with lots of working outdoors," Sheila says of her Peace Corps experience. "It was a bit like what a [UNH Cooperative] Extension coordinator does here: agricultural research and bringing that into the community, and also seeing how important the work is to the community."
When she returned to New Hampshire in the late 1990s, Sheila knew she wanted to be at the orchard, working with her parents. First, however, she had to devise a plan to help build the business to a point where it could support three people. Both Dick and Ann Fabrizio had retired from their careers, giving them more time to focus on the orchard. Over the years, Windy Ridge had established a strong wholesale business selling apples and cider to area markets, and Ann ran a gift shop during harvest season. Now, with three Fabrizios dedicated to the business, Windy Ridge Orchard was ready to move beyond apples.
In the years since Sheila's Peace Corps service, she's been a driving force in the evolution of Windy Ridge from a mainly wholesale market to a favorite destination for pick-your-own apple lovers and families looking for a day out. During the first few years, she had a job off the orchard as the 4-H camp director in Concord. At the same time, she worked with her parents to build a small play area at the orchard, add farm animals for children to feed, and create a nature trail. She established a blueberry patch as another pick-your-own option. Eventually, she bought a concession trailer to sell cider donuts and coffee.
"The first donuts were awful," she laughs now, several years after perfecting the recipe. But soon Windy Ridge visitors were asking where they could get lunch, and a new idea was hatched.
In 2004, Sheila opened the Cider House Café at the orchard, adding breakfast and lunch options to the popular cider donuts. The offerings at the Café are made from scratch, sourcing as much as possible from the orchard and other area farms.
Windy Ridge berries and apples are also used in the Winery at Seven Birches, Sheila's latest endeavor. A partnership with local winemaker Mark LaClair, this venture also started small and grew. First the wine was made in buckets, then in tanks off site, and eventually a winery was constructed at the orchard, adjacent to the Cider House Café.
"We've tried to make Windy Ridge a destination," says Sheila.
Judging by the buzz of activity at Windy Ridge throughout the summer and fall – from smiling children clamoring to feed the goats and fill wagons with freshly-picked apples to slightly older visitors filling the café and popping into the winery and gift shop – they've been successful in that endeavor.
Windy Ridge Orchard
Dick and Ann Fabrizio, Sheila Fabrizio
Route 116
North Haverhill, NH 03774
(603) 787-6377
http://windyridgeorchard.com/
Retail:
Gift shop: Open daily, 9 a.m.-5 p.m., mid-August to Christmas
Pick-your-own Blueberries: July and August
Pick-your-own Apples: daily, 10 a.m.-4 p.m. Labor Day to Columbus Day
Wholesale:
Littleton Food Co-op
Mac's Markets
Cider House Café:
Open daily, mid-June to October 31
Breakfast: 7-11 a.m.; Lunch: 11 a.m.-3 p.m.
Winery at Seven Birches:
Open daily, 10 a.m.-3 p.m., mid-June to October 31
Meghan McCarthy McPhaul is an author and former newspaper reporter. She pens a regular column for the Littleton Record, as well as web copy and press releases for various businesses and her writing has also appeared in several regional and national publications, including Powder, Northern Woodlands, Forest Notes, and the Journal of the New England Ski Museum. www.MeghanMcPhaul.com
---
For additional news on New Hampshire Farms, agriculture,
and seasonal events, follow us on
Facebook