Home » Farm Women, Sullivan County (Claremont/Newport Region)
Heather Gallagher, Many Summers Farm, Cornish, NH
By Martha Esersky Lorden (December 6, 2015)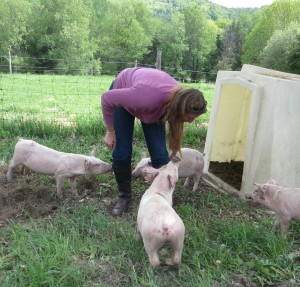 Heather Gallagher lives in a barn. That is, she and husband, Gwyn, proprietors of Many Summers Farm in Cornish, New Hampshire, occupy the converted upper floors of the farm's gray-shingled barn. Talk about a short commute.
Entering this open-concept living space above the milking parlor and cheese kitchen, one encounters an old boot jack and a barrage of boots lined up in the stairwell: muck boots and wellies, leather work boots, and riding boots. They paint a portrait of hard-working folks, and the rustic kitchen area houses further evidence. Potted seedlings readied for spring planting are everywhere. Jarred preserves sit in open cupboards. A towering stack of books on land use and design, container gardening, and cooking take over a corner. Heather Gallagher, just like many modern professionals, works from home.
Statuesque, tan, and fit, Heather has an infectious smile. Originally from Connecticut, she grew up an avid sailor, later teaching middle- and high-schoolers sailing and coastal navigation. She's an accomplished rider in dressage and jumping and has worked conditioning horses. She also is a professional environmental consultant, and that training has been put to good use on this small commercial farmstead where livestock and produce support the sustainable lifestyle the Gallaghers desire.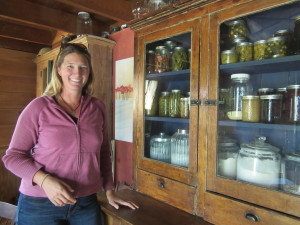 Heather's industriousness and love for farming is embedded in the very landscape of Many Summers Farm. She prefers managing pasture land through rotational foraging, as it provides rest periods for plant growth and recovery as well as water conservation. A number of flexible paddocks dot the hillside. This portable fencing system creates moving pig plots, sheep pastures, and a corral for a small herd of American Milking Devon cows and calves. The animals graze exclusively outside, a key to quality food production, explains Heather. The grass-fed beef, poultry, and pork she raises are central to the collaborative Farm Share she runs with near-by, and like-minded, Stone Fence Farm in Unity, New Hampshire.
Heather's signature product is her exquisite cheese. She once milked her own cows for cheese production, but now supports a local award-winning dairy farm by purchasing its organic milk. She has developed her own recipe for a natural-rind Welsh Cheddar with a creamy edge and crumbly center. She also produces an aged Tomme de Savoie, a semi-firm farmhouse-style French Alpine cheese. Many Summers Farm has been the exclusive provider of cheese and meat to New Hampshire restaurants like the now-closed Home Hill Inn Restaurant in Plainfield and the Farmer's Table Café in Grantham.
Heather is considering some new ventures. She has future plans for a cheese cave, a bread and pizza oven, farm-to-table dinners, and offering cheese workshops. Alternative power sources are also on her list. "I'm not afraid of trial and error," says Heather. She continues to explore and educate herself in the holistic farm management movement by attending workshops and conferences.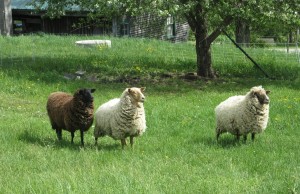 "Farming comes so naturally to both of us. We want to stay connected to things that are real—to our animals, to the land, to the weather, and most of all to the community." To keep the sixty-acre farmstead a modest operation is her focus.
Gwyn and Heather have "His and Hers" trail horses in the upper pasture. It's mid-June, and Bill Gallagher, Heather's father-in-law, brings up two bottles of his finest rhubarb and dandelion wine. Enormous lilac bushes perfume the hillside.
For Heather, Many Summers Farm is about lifestyle, not profit. "We are not actively seeking markets and plan to stay small. It's our glorified homestead."
Many Summers Farm
Gwyn and Heather Gallagher
113 Paget Road
Cornish, NH 03745
603-675-2200
Many Summers Farm Facebook
Retail: Direct to customer sales through Meat, Cheese, and Pantry Farm Share in collaboration with Stone Fence Farm of Unity, NH
Wholesale: Beef, yogurt, cheese, breeding stock (Bulk sales to restaurants, markets, and stores)
Martha Esersky Lorden is a food writer, culinary historian, and cookbook reviewer for Publishers Weekly and BlueInk Reviews. She teaches classes in food history for OSHER at Dartmouth and the Hanover Consumer Co-op and owns Kitchen D'Or, a personal cooking service.
---
For additional news on New Hampshire Farms, agriculture,
and seasonal events, follow us on
Facebook