Contact the farm
Home » Farm Profiles, Rockingham County (Salem/Exeter/Portsmouth Region)
Field to Fork Farm, Chester, NH
By Scott Murphy, St. Anselm College, 2016
Field to Fork Farm is as much a literal description as it is a clever title, as farmer/owner Patrick Connelly firmly believes that products derived straight from pasture-raised, organically fed animals are the best available.
This belief is primarily rooted in nutrition, as Connelly and his wife Daniela both have a background in the field of health. They met at Boston University while pursuing their Masters in Public Health and moved to South Africa after graduation to work for the treatment of HIV/AIDS (Patrick as a health economist and Daniela as a medical doctor).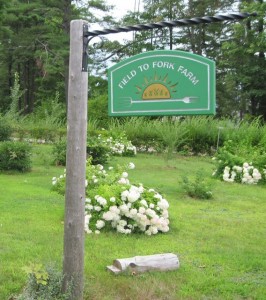 Connelly and his family relocated to Chester roughly nine years ago in order to focus on raising their family, choosing a beautiful plot of land on a twisting rural road adorned with other small country homes and farms. Daniela took up a position in employee wellness at Lawrence General Hospital, and Patrick began work on 77 acres of land that would become Field to Fork.
Yet, that initial effort was not done with profit in mind, as Connelly explained that the animals and plants that he originally purchased were solely for the benefit of his family's health. The farming methods Connelly uses focus on the health of the soil and animals as much as the food, which Connelly believes lead to the highest quality products available for his family.
The farm began to evolve into a more dedicated operation when Connelly purchased a milking cow (named Candy), due to the dedication that she requires.
"You have to be diligent about milking every single day," Connelly explained. "If you want to go away for any length of time, you have to find someone trustworthy to take over the task for you."
With the addition of Candy to his budding cornucopia, Connelly began to sell some of his products to a circle of close friends, primarily milk, eggs and pork. Eventually, the circle would increase its circumference enough to warrant Field to Fork's creation.
Thirty of the farm's 70 acres is now fenced in for grazing, which provides the opportunity for 20 pigs, three steers, one calf, a cow and her calf, Candy and a large flock of chickens to roam and feed.
Currently, depending on season and supply, Field to Fork offers milk, eggs, pork, beef, chicken, turkey, a variety of fruits and vegetables (tomatoes, peppers, potatoes, garlic, onions, peaches), honey and maple syrup, all raised and produced through entirely organic methods.
This list's variety is intentional; Connelly shared that "We do not specialize in anything. I just want to do a lot of different things and diversify as much as possible."
Running the farm is also done through an assortment of approaches, all of which pay mind to the environmental side of Connelly's farming focus. For an entire year, Connelly estimates that Field to Fork averages roughly two-thirds efficiency in heat and electricity, with the former being fueled by wood and the latter by solar panels. The leftover stumps and wood are allowed to decay and are absorbed into the ground, which enriches the soil.
Connelly receives assistance in running Field to Fork from his family. His five children, ranging in age from seven to sixteen, all help to varying degrees, completing tasks ranging from collecting eggs to performing maintenance around the property. Additionally, two dogs go above and beyond being simply the family pet. A herding dog helps to wrangle up the animals when necessary, and a German shepherd wards of predators with her powerful bark more effectively than any fence could hope to.
Through all the nutritional and environmental concerns that Connelly keeps in mind while tending to Field to Fork, there is one element that he believes may be the most convincing argument for choosing organic food.
"Organic just tastes so much better," Connelly admitted. "While a lot of our focus is on health and the environment, there is a certain freshness to the food that just cannot be beaten."
From the gorgeous landscape to the superior products and admirable farming methods, there is a plethora of reasons to stop by Field to Fork and taste the difference.
Field to Fork Farm
Daniela & Patrick Connelly
522 Haverhill Rd
Chester, NH 03036
603-548-4331
http://www.fieldtoforkfarm.com/
Retail: (direct to customer)
Farmstand: 522 Haverhill Rd, Chester
Published on: October 3, 2014
Last modified on: May 3, 2016
---
For additional news on New Hampshire Farms, agriculture,
and seasonal events, follow us on
Facebook