Home » Farm Profiles, Merrimack County (Concord/New London Region)
The Visionaries of Windhover Farm
Martin Marklin and his wife Christine came to Contoocook in 1999 to manufacture unique and beautiful candles for churches, a specialized skill Martin developed over many years. Their flourishing business currently uses about 30,000 pounds of beeswax annually. The production of unique liturgical beeswax candles remains a critical component of the Marklins' Contoocook enterprise, but sustainable farming practices on their growing farm now play featured roles in their business plan. The name of their farm, Windhover ("falcon") Farm, is taken from a poem which describes the poet Gerard Manley Hopkins' and the Marklins' deep respect for the workings of the natural world.
Bees have provided a critical component of the Marklins' livelihood and they now provide a fascinating focus for one of Martin's enterprises: beekeeping. Currently, Martin maintains about one hundred hives at Windhover, the 8 ½ acre homestead surrounding his factory which is located minutes from the center of Contoocook. Martin also has apiaries in Dunbarton, Hopkinton, Canterbury and Warner. Each apiary produces honey which is distinctly flavored depending on the variety of flowers and plants in the five mile radius visited by its bees. As the 2014 delegate to the Eastern Apiculture Society, Martin conferred with delegates from around the world and came home prepared to share the latest developments in beekeeping with his Granite State colleagues.
Martin and Christine's growing understanding of the life cycle of bees and the challenges these essential pollinators are now facing has inspired a desire to become careful stewards of their land. Originally from Iowa,
Christine witnessed the gradual demise of many small and medium-sized family farms. She observed farmers' resistance to the use of farming practices which they considered damaging to farmland soil and water supplies. With this experience in mind, Christine and Martin clear their land, even the trash-strewn "back forty," using a succession of amazingly effective and efficient animal workers. First the family's goats are called upon to attack the twiggy tough stuff, then the sheep are called in to handle the low weed cover, finally the pigs take over to root up rocks and refuse. Using this approach, they have reclaimed wide swaths of acreage along the river making this land productive and beautiful. They are eager to share the knowledge they have gained while engaged in their environmental recovery efforts, their animal husbandry, beekeeping and vegetable growing experiences using organic methods with visitors to Windhover Farm.
The Marklins are also firm believers in the barter system. Their duck eggs are a key ingredient in Blackwater Mustard, a locally produced product whose manufacturer reciprocates by helping the Marklins process their pigs into smoked bacon and other pork products.
These stewards of Windhover Farm have an inspiring vision for the future of their naturally cleared acreage along the river. The Marklins hope to build riverfront cabins that will provide workspaces for visiting artisans who will then offer their creations for display and sale in in a gallery at Der Markt, the attractive retail space located in front of their candle manufacturing facility. Der Markt will soon feature a Tea Haus to complement the current sales area. Another future endeavor may well be the blending of the hops growing in tall green strips up the back walls of the candle factory with Windhover Farm honey to produce that ancient and delectable drink called mead.
Attending to the work of the farm is a family affair for the Marklins. Their son Matthias is responsible for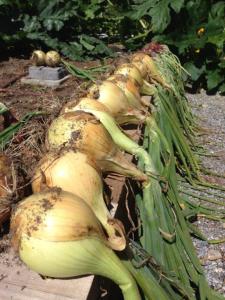 the sheep, while Simeon and Matthias together care for the chickens. Daughter Anna often helps out in the garden and processes herbs such as lemon balm and chamomile which provide wonderful teas. Daughter Judith, the family's world traveler, looks forward to spending time on the farm after completing college.
Along with honey and honey-derived products, remarkably lush organic produce, fresh eggs, tea, candles, unique jewelry, clothing and gift items, a visit to Marklin Candle and Der Markt at Windhover Farm provides inspiring evidence of what thoughtful and caring stewardship of the land can provide.
Martin & Christine Marklin
Windhover Farm
28 Riverside Drive
Contoocook, NH 03229
603/746-5442
Published on: October 30, 2014
Last modified on: June 23, 2015
---
For additional news on New Hampshire Farms, agriculture,
and seasonal events, follow us on
Facebook