Contact the farm
Home » Andover, Farm Profiles, Merrimack County (Concord/New London Region)
Ragged View Farm, Andover NH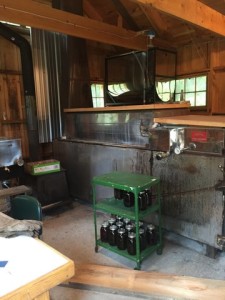 Growing up working on his uncle's farm, Mark Cowdrey is no amateur when it comes to farming. Originally working as a carpenter, he began becoming more invested in his small, at-home farm when jobs began to grow scarce. With hard work and dedication, Mark took on the challenge of turning his 18 acres of land into the farm he had always dreamed of.
Being in his sixties, he now owns a flourishing farm that sits in the back woods of Andover, New Hampshire, overlooking Ragged Mountain to the North, and located near a small ski area. Ragged View is based on the idea of self-sustainability, and the outputs from the farm are mainly used by Mark and his family. These outputs consist of pig meat, eggs, an array of products from cows, and some smaller amounts of produce, such as berries and vegetables.
The farm started as a small idea in 1999 and has grown into the successful farm that it is today. Mark does a majority of the labor-intensive work, while his wife makes their canned items for winter such as tomatoes and pickles. There is no large involvement from their children or other family members; however, the grandchildren of the owners are becoming more interested in contributing as they get older.
Though the farm is not organically certified, Mark strives to keep his products grown and sold as naturally as possible.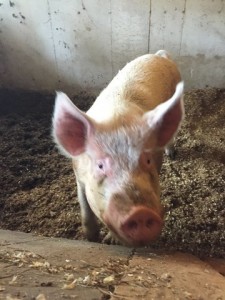 He also makes sure to do what's best for his animals and the growth of the farm itself. The majority of the farm is animal-based, not plant-based, so it makes it more difficult to be entirely organic. Mark mentioned that he does most of his work by hand, such as the collecting of eggs, and moving of the cows every day. The horses that are on the property are also used on occasion, such as working in his hayfield. While Mark uses very little machinery for any of his farming, tractors are used in order to get tasks done in a timely fashion.
Currently Ragged View does not have a farmstand, although they do sell products on their property. The products that they produce range from farm-fresh eggs from their many chickens to meat from the hogs that they have raised over the years. Mark does not have a large desire to produce products directly for the purpose of making a profit. The main customers of the products that they do have are family and friends and some people who hear of the farm through word of mouth.
Maple sugaring is a newer feature that has been added to the farm recently. Mark built a sugar shack this past year in order to reduce the step of sending his sap to an outside boiler. He would like to expand and extend pipelines for sugaring, which seems to be his primary focus.
While the farm is still relatively small, there is always room to expand. Along with sugaring, Mark plans to open a farmstand in the fall and enlarge some pastures on the property which will create more space for the cows to graze in and allow him to raise more animals or produce. The major goal is to not commercialize a majority of his products, but to focus on being able to sustain himself and his family through the outputs of the farm, while selling the leftover products. Mark is very passionate about his belief that farms should be based around being self-sustainable. It's important to focus on the smaller scale farms and the quality that can be brought from a farm, rather than amping up production and losing the quality of the products that are supplied.
Ragged View Farm
Mark Cowdrey and Lea LaFave
111 Bradley Lake Rd, Andover, NH 03216
Phone: (603) 724-7511
Website: http://www.raggedviewfarm.com/index.php?nav=25
Retail: (Direct to customer sales)
By Colby Sawyer Students: Alyssa Smith, Hayley Lefebvre, Kierna Evoy, Marshall Williams, and Madison Hunter
Published on: December 14, 2015
Last modified on: May 2, 2016
---
For additional news on New Hampshire Farms, agriculture,
and seasonal events, follow us on
Facebook