Contact the farm
Home » Farm Profiles, Merrimack County (Concord/New London Region)
LaValley Farms, Suncook, NH
By Jacqui Boudreau, University of New Hampshire, 2013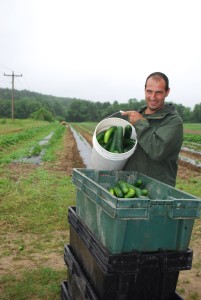 Chris and Danielle LaValley worked on Blake Farms in Pembroke as teenagers. In 2006, they purchased the property and it was then that reality struck; there is a difference between working on a farm and owning a farm. Where to begin? Chris took on the responsibility of learning the science and methodology of farming so he could manage the fields. Danielle, began as cashier. As demand for their fresh products increased, she became the bookkeeper and manager for their retail farmstands in Hooksett and Manchester. Today the LaValleys farm in Hooksett and Allenstown, in addition to their original farmland in Pembroke.
The couple have two children, a girl, Anabelle, and a boy, Blake, named after the original farm's previous owner. They also have four rescue dogs that romp around the fields, fending off deer, groundhogs, and other pests. Young visitors often ask for the dogs, who are often around the Hooksett farmstand
Chris and Danielle founded LaValley Farms because farm life was what they knew and appreciated from working on Blake Farms. Because of their own early positive experiences of farm life, the couple is dedicated to offering jobs to young people and seldom turn down applicants who are willing to work. However, Chris admits that hiring teenagers has its teaching challenges including their expectations that pay rates should exceed those of skilled laborers from other countries. But he continues to believe that, despite a few adolescent difficulties, utilizing the young local workforce is an important piece of the farm's character and history, and along with Danielle, is  happy to provide jobs for what could-be future farmers.
Up to 50-60 local youths, as young as 12, work at the farm during peak season. As a reward for their commitment to the farm, Chris gives them a bonus for staying on for more than one year. He believes that teens who have worked at the farm previously have an advantage over the new applicants because they have experience and shown dedication.
LaValley Farms' main farm stand is tucked along a busy Hooksett, NH road.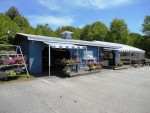 The charming retail shop carries product from their nearly 75 acres of farmland, 20,000 square feet of greenhouses, and an expanding troop of chickens. The farm is a trusted source of home-grown produce, eggs, flowers, and other products for a growing base of local patrons. LaValley Farms' goods are also available at a smaller cart located in Manchester, NH. The two
farm stands offer a diverse range of products that are either the farm's own, grown in New Hampshire, or sourced from businesses in neighboring states. The owners have a strong focus on providing local products, and they strive to grow everything that can be grown in New Hampshire.
Customers can expect to find the farm's own freshly harvested sweet corn or strawberries in-season, as well as tomatoes, winter greens, garlic, onions, and even flowers from the farm and greenhouses. Honey, syrup, ice cream, and other products made in New Hampshire are also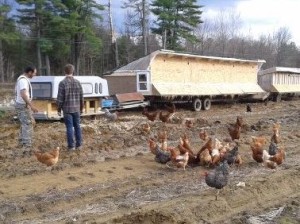 available. The flavor of LaValley farms' fresh eggs from their truly free ranged chickens sometimes require a waiting list to accommodate demand. Locals are always entertained by the 115-foot chain of chicken hen houses referred to as "The Chicken Train" that is towed around to different locations on the farm grounds for the chickens to feed off fresh turf.
LaValley Farms is an IPM farm, or Integrated Pest Management farm. This means that they try to limit their use of pesticides and chemicals by using alternative pest control methods, like insect trapping.
In the future, the owners' goal is to increase customers' access to freshly grown produce. They hope to expand their retail season and begin offering a few more products from regional farms, when it means providing customers with a better product at a lower price. Previously, the stands were only open from May to around Halloween. Now, the owners are keeping doors open through the holidays and on weekends through the remainder of the off-season. During the extended season, the farm stand sells stored produce, flowers, and assorted other products, which seems to be working out well. Chris says they owe their success to the loyal base of customers that make the extra trip out to the stand.
LaValley Farms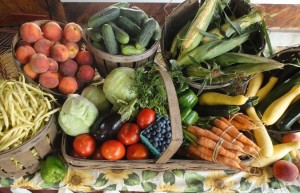 Chris and Danielle LaValley
1801 Hooksett Road
Hooksett, NH 03106
603-438-3541
http://www.lavalleyfarms.com
Retail (Direct to customer sales):
Hooksett Farm Stand (Main Location)
1801 Hooksett Road, Hooksett, NH 03106
Phone: 603-438-3541
Manchester Cart
2180 Candia Road, Manchester, NH 03109
(Just outside the Massabesic Traffic Circle)
Phone: 603-344-3541
Author bio: Jacqui Boudreau graduated from the University of New Hampshire in 2013 with a BS in Health Management & Policy and a focus in Public Health. After graduating, she spent a year at the Seymour Osman Community Center in Dover, NH as a member of the Granite State Education Corps. She now resides in Nashua, NH, where she volunteers in the community and seeks to begin her career in healthcare research.
_________________________________________________________________________________________
New Hampshire Farms Network gratefully recognizes and thanks Osborne's Agway Hooksett in Hooksett, NH for sponsoring LaValley Farm's profile.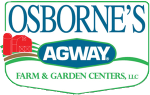 Route 28 Bypass (Behind K-Mart)
343 Londonderry TNPK, Hooksett, NH 03106
(603) 627-6855
Published on: March 28, 2015
Last modified on: May 3, 2016
---
For additional news on New Hampshire Farms, agriculture,
and seasonal events, follow us on
Facebook