Contact the farm
Home » Farm Profiles, Merrimack County (Concord/New London Region)
Canterbury Aleworks, Canterbury, NH
By Rachel Jaworski, Morgan Winters, Annali Preble, Patricia Doody, Colby-Sawyer College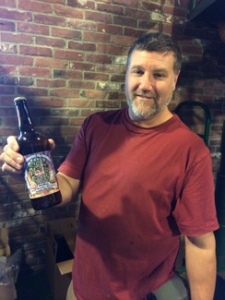 Canterbury Aleworks is a small brewery established in 2012. Located in Canterbury, New Hampshire, the brewery is run by Steve Allman, with help from his family.
In 1985 Steve Allman bought 72 acres of land and in 1987 built a small cabin that he would call home. He named his farm "Hidden Wonders" because of its hidden location and reputation as "the seven wonders of Canterbury" and began producing vegetables and meat for his family in 1996. His woodworking business, Canterbury Woodworks produced Shaker woodenware that was sold world wide until 2001, when Hidden Wonders began to produce farm food for sale. It wasn't until 2011 that he began to focus more on the brewery and less on other farm produce.
As you drive down the dirt path, you will see a vegetable garden and hops yard on the right. He maintains the vegetable garden only as a food source for his family. The hops yard is organized in rows, far enough apart to allow for bottomless chicken coops to be pulled in between the rows of hops. This provides a natural source of fertilizer for the hops, grass variety for the chickens, and allows for grass to regrow after being grazed. Steve has two different coops – one for meat chickens and one for egg-producing chickens. On this section of the farm, Steve also has free-range geese and four sheep.
Up the path to the right you will see the Canterbury Aleworks
sign at the entrance to the brewery. Steve brews his beer in the back, and out front is where his customers come to purchase beer or stay to sample the product at his customized tables made from beer barrels. Around the top borders of the room Steve has provided a unique place for customers to write quotes or comments in chalk about the brewery or beer itself. Above the taps is a handcrafted case containing the collection of mugs he inherited from his late father. The brewery, which can hold up to twenty customers at a time is, the busiest on Saturdays. Steve has regular customers who frequently purchase beer from him, as well as seasonal customers and those who visit while in town temporarily.
Across from the brewery is a small pond that Steve and his family use for recreational activities such as canoeing. At the end of the dirt path, is the barn that houses two oxen, three pigs, one rescue horse, and one milk cow. The oxen are used around the farm to help move equipment, the pigs are raised as a source of meat, and the horse was bought as a pet for his two daughters. To the right of the barn is the house Steve built in 1992 where he and his wife live with their four kids and two dogs. His wife helps on the farm and also homeschools their two sons. The older children, both daughters in college, were also homeschooled.
Steve has built his farm, home, brewery, and life on this land. He believes in keeping the brewery small and personal; becoming a larger business would break the intimacy he has with both the land and his customers. The brewery is also a one-barrel, water-powered and wood fired showcase nano-brewery. His beer can only be purchased at his farm or at farmers markets in Concord and Canterbury. The brewery's sales hours change seasonally. Steve also offers tours to taste and purchase his beer.
Canterbury Aleworks
305 Baptist Hill Rd Canterbury, NH 03224
603-491-4539
www.canterburyaleworks.com
This profile was written by students at Colby-Sawyer College
Published on: December 8, 2014
Last modified on: May 3, 2016
---
For additional news on New Hampshire Farms, agriculture,
and seasonal events, follow us on
Facebook