Contact the farm
Visit:
(
Directions
)
471 Josiah Bartlett Rd Concord, NH
Home » Farm Profiles, Merrimack County (Concord/New London Region)
Bartlett Farm Dairy, Concord, NH
By Jacqui Boudreau, University of New Hampshire, 2013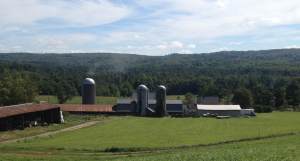 Bartlett Farm Dairy in Concord is a family farm, through and through. Scott and Craig's great-grandfather bought the land in 1924 and built a second story on on the house to accommodate his seven children. Today, Scott and his father, Alan, manage the farming, while brother Craig focuses on marketing their milk to local outlets. Scott always knew he would continue the family legacy, leaving only for a brief time to earn a degree in animal science before returning to the farm. The Bartletts were able to begin selling and marketing their own milk in 2011 when Craig rejoined the family business. The farm is situated on the coincidentally-titled Josiah Bartlett Road, named after the NH signatory of the Declaration of Independence but who has no known relationship to the Bartlett Farm Dairy family.
A troop of cows  graze across the street from the farm with its ring of  buildings set at the foot of 200 acres of rolling green hills and forest land. At the entrance of the farm, there is an open shed that stores returnable glass bottles used to sell the farm's milk to local stores, schools, and eateries all over the Lakes Region and the southern half of the state.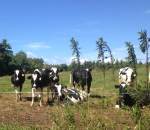 Most of the day-to-day work involves caring for the cows in the milking barn. A special nutritionist, who has designed their diet, visits regularly to test the volume and nutritional makeup of the milk and the cows are inspected at least once a month to ensure their health. Scott jokes that they probably have a healthier diet than he does.
Next door to the barn is the milk room, where the cows' milk is safely stored in a refrigerated case. From here, about one-third of the milk goes to the processing plant at Smiling Hill Farm in Portland, ME for pasteurization, where it will be transformed into the farm's  various milk offerings from skim to whole, as well as special flavors like chocolate, strawberry and blueberry. The rest of the milk goes to the Hood plant, where it is mixed with milk from numerous other farms before it is pasteurized, bottled, and sold.
Scott Bartlett hopes that someday, the family will have the independence to process and market all of their own milk. This would mean building their own on-site processing plant, an estimated $750,000 investment. He figures that the family's biggest challenge is to survive the ever-rising property costs in an increasingly urbanized area. Right now, Bartlett Farm Dairy owns 70 cows which is smaller than New Hampshire's 115-cow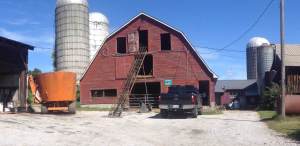 average herd size. Another hurdle is the varying wholesale price for the milk sold to Hood because it is based on government regulation. The real key to their expansion, Scott muses, is to increase sales. "More people need to buy our milk!" as Alan simply puts it. The Bartletts dream of a day when they can easily budget for new equipment and employees without having to worry about the variability of wholesale prices.
That day may not be too far off because Craig's marketing is bringing in more customers for their milk than ever. Scott believes that the expanding "eat local" movement is helping. "Ten or even fifteen years ago, it was all about organic," he says. "Now it's all about local." He reflects that while they used to do a lot of hunting down customers, now the customers seem to seek them out.
Although the farm shows little evidence of activity, it does experience a fair amount of visitors. Once a year,  a local kindergarten class tours the farm. Scott recalls one visit about 10 years back, when the family had a litter of kittens. One boy had shyly asked if he could hold one of the kittens. The boy later admitted that it was the first time he had touched a live animal. The kittens gave this young boy a learning experience he wouldn't soon forget.
Hikers and other recreation enthusiasts walk the dirt roads or ride their ATVs to the trails beyond the farmyard. And Alan estimates that about 30-40 local customers regularly trickle in to get a taste of fresh, raw milk, which can only be bought at the farm. And just as Scott was commenting on the increase in local customers, on cue, a woman wanders across the farm yard and asks, "Excuse me, is this where I can buy some fresh milk?"
Bartlett Farm Dairy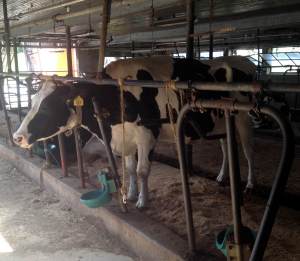 471 Josiah Bartlett Rd.
Concord, NH 03301
603 731-3213
Visit them on Facebook
Retail Sales: (Direct Farm to customer)
Raw milk only
Wholesale
Author Jacqui Boudreau lives in Nashua, NH and majored in Health Management & Policy with a  focus in Public Health at UNH
_________________________________________________________________________________________
New Hampshire Farms Network gratefully recognizes and thanks Osborne's Agway Concord in Concord, NH for sponsoring Bartlett Farm Dairy's profile.
258 Sheep Davis Rd, Concord, NH 03301
(603) 228-8561
Published on: October 5, 2014
Last modified on: June 9, 2016
---
For additional news on New Hampshire Farms, agriculture,
and seasonal events, follow us on
Facebook