Contact the farm
Home » Farm Profiles, Grafton County (Plymouth/Hanover/Littleton Region)
Windy Ridge Orchard, North Haverhill, NH
By Meghan McCarthy McPhaul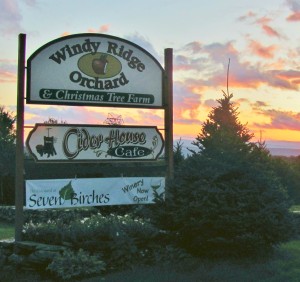 At Windy Ridge Orchard in North Haverhill, farming is truly a family affair. Dick and Ann Fabrizio purchased the farm in 1967 and transformed it from a small dairy operation to an apple orchard, which has grown considerably in size and scope over the past five decades. The Fabrizios had off the farm jobs while building the orchard and raising their five children. Today as retirees, Dick and Ann run Windy Ridge full-time.
"Everyone in the family does something," says daughter Sheila who is the only member of the second generation to work at Windy Ridge full time. Lynn helps out on busy weekends during pick-your-own season. Mark maintains the ten-acre Christmas tree plot. Rick keeps the tractors and other farm equipment running. Nancy arrives from Florida each summer to help set up the gift shop.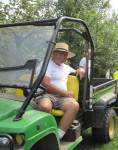 The elder Fabrizios met as undergrads at the University of Massachusetts and moved north when Dick was hired as 4-H agent for the UNH Cooperative Extension. Ann worked for many years as a teacher. The couple planted the first apple trees at Windy Ridge in 1968. At first, the Fabrizio kids – when they weren't busy tending to their 4-H sheep and dairy farm chores – sold apples from a tent set up on the front lawn. The garage housed a cider room, and the carport held bushel boxes of apples. Over the years, they have expanded operations.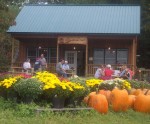 "We've tried to really make it a destination," daughter Sheila says. She oversees the blueberry patch, runs the Café and has opened the Vineyard at Seven Birches in partnership with local winemaker Mark LaClair.  Meanwhile, Dick continues to manage the apple production and wholesale sales to the Littleton Food Co-op and local Mac's Markets. Ann operates the gift shop and orchestrates school programs in the summer and fall. Sheila's 2-year-old son, Max, is growing up on the orchard like his mother did.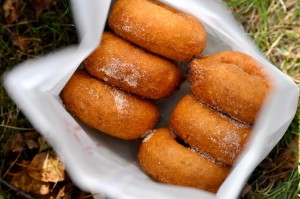 Windy Ridge Orchard
Dick and Ann Fabrizio, Sheila Fabrizio
Route 116
North Haverhill, NH 03774
(603) 787-6377
http://windyridgeorchard.com/
Retail:
Gift shop: Open daily, 9 a.m.-5 p.m., mid-August to Christmas
Pick-your-own Blueberries: July and August
Pick-your-own Apples: daily, 10 a.m.-4 p.m. Labor Day to Columbus Day
Wholesale:
Littleton Food Co-op
Mac's Markets
Cider House Café:
Open daily, mid-June to October 31
Breakfast: 7-11 a.m.; Lunch: 11 a.m.-3 p.m.
Winery at Seven Birches:
Open daily, 10 a.m.-3 p.m., mid-June to October 31
Meghan McCarthy McPhaul is an author and former newspaper reporter. She pens a regular column for the Littleton Record, as well as web copy and press releases for various businesses and her writing has also appeared in several regional and national publications, including Powder, Northern Woodlands, Forest Notes, and the Journal of the New England Ski Museum. www.MeghanMcPhaul.com
Published on: June 3, 2015
Last modified on: May 3, 2016
---
For additional news on New Hampshire Farms, agriculture,
and seasonal events, follow us on
Facebook