Contact the farm
Home » Farm Profiles, Grafton County (Plymouth/Hanover/Littleton Region)
Glove Hollow Christmas Tree Farm, Plymouth, NH
By Hannah Bolstridge and Douglas McMillan, Plymouth State University, 2014-15
Over 400 acres of land has been family owned and operated by the Aherns since 1897, and is now home to Glove Hollow Christmas Tree Farm on Route 3 in Plymouth, New Hampshire. The name "Glove Hollow" comes from the name of a brook where in the 1900s a fine leather glove making facility was located. The foundation of the Draper Maynard manufacturing facility can still be seen on the farm.
With 80,000 Christmas trees aligned in rows, it is hard to imagine that the land was originally home to a dairy farm until Omer Ahern planted his first Balsams in 1957. The land located by the Pemigewasset River provides a fertile plot for tree farming. Today, Omer's son Mike a fourth generation owner, with his shearing crew of eight tend the 172 acres of well-shaped Balsam, Canaan and Fraser fir trees in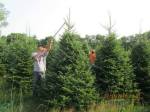 preparation for their busy holiday season. Mike has held the president & director positions within the NH-VT Christmas Tree Assoc. and often attends to the tree care needs of other farms.
During the holiday season, piles of various tree species marked by different colored flags line the front yard in the weeks before Christmas for wholesale orders. The family trims, cuts, and bales in preparation for pick up on their farm or make arrangements for commercial haulers.
Families are also encouraged to come choose and cut their own tree to get the first fragrant whiff of the holiday season. Horse drawn wagon rides take tree shoppers around the fields and recently built is a "warming hut" for taking breaks from the cold while searching for the "perfect" tree. The hut is located where a stage coach station once sat. There are a variety of children's activities around the farm including playing with the family goats. There is also a gift shop with hot cocoa to warm chilled bodies and where home-made made wreaths and other local products are sold.
Glove Hollow Farm wastes no time when it comes to the Christmas season. They are open for sales beginning the day after Thanksgiving until December 24th to ensure everyone has a chance to find what they are looking for. From cut-your-own Christmas trees, to wreaths, horse-drawn sleigh rides, and charismatic goats, Glove Hollow is a great place to unleash one's Christmas spirit. The farm is open to the public Monday through Thursday from 11 AM to 5 PM, and Friday through Sunday from 8 AM to 7 PM.
Glove Hollow Christmas Tree Farm
395 DWH (on the South side of Plymouth, GPS may take you to the north side)

Plymouth, NH 03264
Tel: 603-520-9096
www.glovehollow.com
Hannah Bolstridge and Douglas McMillan are students at Plymouth State University and are working with PSU's Center for Rural Partnernships office which utilizes service learning techniques to connect to the needs and the goals of rural communities.
Published on: December 5, 2014
Last modified on: May 3, 2016
---
For additional news on New Hampshire Farms, agriculture,
and seasonal events, follow us on
Facebook