Home » Coos County (Berlin/Lancaster/Colebrook Region), Farm Profiles
Ski Hearth Farm, Sugar Hill, NH
With a vast view of Franconia Ridge and Cannon Mountain across the widespread field, Ski Hearth Farm is picturesque and "sells itself", according to farm manager David White. The historic farm house- one of the oldest structures found in the area- is a reminder of the long history of the farm property and its previous owners. Beginning with Selden Hannah's famous potato farm in the 1940's, to Olympic Skier Bode Miller, to present-day owner Davis Mangold, Ski Hearth has been an important resource in the agricultural and agri-tourism community of the North Country.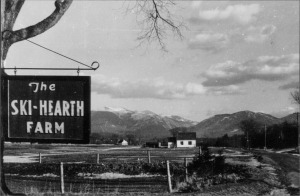 Farming in the North Country alone is a major accomplishment with such a short natural growing season, but the real accomplishment is how successful Ski Hearth Farm has been in its short one-year period since Davis Mangold purchased the 600-acre property in August of 2013. Today, the organic farm is managed by David White, with the help of fifteen other employees. Ski Hearth Farm has created multiple jobs for people in the North Country- a major feat in a place where jobs are not always plentiful.
Ski Hearth Farm has a knack for tackling impressive projects seemingly without a hitch. Their current endeavor involves the creation of a ski area within the property which is anticipated to be open winter of 2015. The Nordic ski trails will reign throughout the property, with twenty kilometers of trail. While most of the farm's revenue is brought in through CSAs and the North Country Cooperative wholesale, the recreational ski area will encourage business and publicity throughout the winter months when production and sales of CSAs and wholesale slows down. The cleared lumber also allows the farm to sell firewood.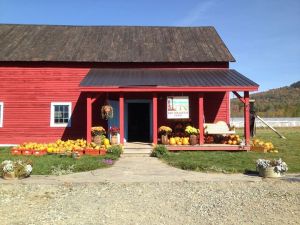 The small window of opportunity for growing in northern New Hampshire results in the use of alternative methods to extend the growing season. Greenhouses lined with warm water piping allows seedlings to thrive enough to be transplanted into a larger area. With help of the employees and a fine-tuned harvesting system, produce can be harvested with high efficiency and then put into the cooler, comprised of thick insulated walls and a mechanically overridden, extra-chilly air conditioner.
No pesticides, GMOs, antibiotics, or other harmful chemicals are used in the production of Ski Hearth's expansive selection of produce and eggs but the farm chooses to refrain from acquiring the organic certificate. Owner and software creator Davis Mangold has created a personalized program to keep records of their CSA market and inventory. If a question or concern arises regarding the integrity of crops or production, the personalized program offers rigid records to refer to ensuring that the farm is indeed operating in a responsible and sustainable manner. The software has allowed the farm to expand their sales to the World Wide Web- customers that prefer to shop in the comfort of their own home can place orders online and pick them up later.
Ski Hearth Farm leads by example in regards to sustainability, agri-tourism, and community outreach within the North Country of New Hampshire. For more information or inquiries, there is a direct contact form on their website.
Ski Hearth Farm
392 Streeter Pond Road, Sugar Hill, NH 03586
www.skihearthfarm.com
603-823-5560
Retail (direct to customer  sales):
Farmstand & CSA
In addition to their own vegetables, meats and products from other farms are available.
Published on: November 8, 2014
Last modified on: April 18, 2015
---
For additional news on New Hampshire Farms, agriculture,
and seasonal events, follow us on
Facebook