Contact the farm
Home » Cheshire County (Keene/Walpole Region), Farm Profiles
Country Critters Farm, Winchester, NH
"It's all about the animals." That's what Julie Thiboreau will tell you if you pay her a visit at Country Critters Farm in Winchester. The 53 acre farmstead purchased and restored by Julie and her husband, Mike, in 2001, is home to three cows (TC, Princess and Weird), 2 calves (Jasmine and Liberty), a Shetland ram (Owassos ) and two ewes (Lillith and Franchesca), a few rabbits, a Great Pyrenees dog (Rose) and two barn cats. Julie loves the animals; she considers the farm her "empty nest therapy". If you watch the animals romp around the pastures you will see they
are happy and well cared for. Her nest is anything but empty now.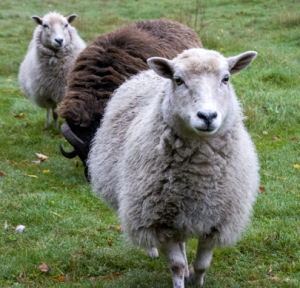 The farm got off to a start as a 4-H project for the Thiboreau's three children, Stacie, Brianne and Jared. The children raised rabbits, cows, chickens, goats, sheep and alpacas. They sold milk, eggs, rabbit meat, goat cheese and yarn spun from their own wool. The children are now grown. Stacie has her own farm and a fifth child on the way. The three sheep on the farm actually belong to Brianne who is looking to purchase a farm of her own. The cows belong to Jared who is away serving in the US Air Force and who is not  the first military man to have lived on this farmstead that dates back to 1790. The three beautiful trees, two maples blazing orange in fall book-ending one mulberry holding onto its green, that stand watch in front of the house were planted by a mother for each of her sons serving in the military.
With the children gone, the Thiboreaus have downsized the farm a bit. Their thirty goats with a penchant for escaping became difficult to manage with Mike working full-time and part-time jobs and Julie working a part-time job. The cows they have now are able to supply what they need. They currently sell raw milk, butter, cream, yogurt, rabbit meat and yarn spun from wool that Julie spins herself.
The couple is planning on making raw milk aged cheeses in the spring. Julie thinks they will be either Tomme or Swiss. She enjoys the challenge of working with milk along with the scientific and creative elements involved.
While not a certified organic farm, the Thiboreaus believe in raising animals as if they had the certified label. The animals are raised on grass and hay and the rabbits eat alfalfa pellets and hay. They avoid use of genetically modified seeds and pesticides. Family health issues was one of the reasons they began to farm. They found that after switching to raw milk and eating the meat of animals they raised or purchased from other local farmers, their health issues subsided. To see this positive change in her family's health caused Julie to be even more determined about the food her animals were fed.
Due to time constraints the family no longer sell their products at farmers' markets, but you can stop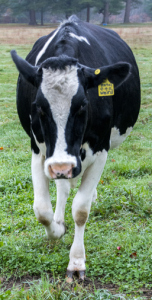 by their farm stand that is attached to the house. It is self-serve, just look for the Funny Farm sign next to the door. They are considering selling their selling products wholesale to local vendors.
Country Critters Farm
Julie and Michael Thiboreau
240 Forest Lake Rd.
Winchester, New Hampshire 03470
603-831-0534
Website: https://www.facebook.com/pages/Country-Critters-farm/306944864719
Retail: (sales direct from the farmer)
Farmstand at the farm
Author Darla Bruno is a computer programmer/analyst originally from New Castle, PA, now residing in Lebanon, NH. She is an avid photographer, enjoys writing in her spare time and is passionate about supporting locally farmed food.
Published on: November 28, 2014
Last modified on: May 3, 2016
---
For additional news on New Hampshire Farms, agriculture,
and seasonal events, follow us on
Facebook