Contact the farm
Home » Belknap County (Center Harbor/Laconia/Sanbornton Region), Farm Profiles
Krebs Farm, Sanbornton, N.H.
"Please excuse my appearance, I've been slaughtering chickens all morning" Ralph Rathjen explains. His jeans are covered in dirt, dried blood, and a few stray chicken feathers. Ralph Rathjen, owner of KREBS Farm, walks around his property with his dog Holly, a black-lab mix who, a rescue dog, trails along behind him.
"I always get phone calls asking if Mr. Krebs is around," Ralph laughs, "but Mr. Krebs doesn't exist. That's not my name." He explains that KREBS is actually the initials of all his family members: his wife Kris, Ralph, and his children Elizabeth, Ben and Sophie. After 20 years of living in Bermuda, working and raising their children, the Rathjens moved to New Hampshire in 2009 and purchased their farm in Sanbornton.
"It's kind of an oxymoron," Ralph explained, "but I retired to farming. I worked on a farm when I was a lot younger for about seven years, and I knew it was something I always wanted to return to. I guess I just do it because I like it!"
KREBS Farm consists of 42 acres positioned atop a hill that has views of both Lake Winnisquam and Mount Washington. Fields of tomatoes, corn, berries, lettuces and squash, as well as a small pond, surround the Rathjen's home. Though the footprint of the farmhouse is the same as the preexisting farm that stood on the land when it was purchased, Ralph explains that in reality their current home is a replacement rather than a remodel. With a wrap-around porch and a raised deck with views of the lake and surrounding mountains, the Rathjens' home is truly the idyllic place for retirement.
On KREBS Farm, one can find a little bit of everything. After growing up in the Midwest and living for years in Bermuda, Ralph and Kris saw the Lakes Region as a peaceful place to settle down. Their goal was not to make a living off of their farm, but rather create an agricultural pasttime. However, the Rathjens do sell a number of their products in smaller amounts. The farm provides produce to some nearby restaurants such as the Local Eatery in Laconia.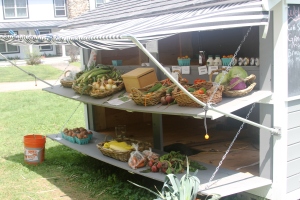 "Our most popular item is tomatoes," says Ralph. Yet the Rathjens do not grow anything on a huge scale; rather they dabble in many areas. For example, the chickens are a recent endeavor, not a long-term commitment. KREBS also has started tapping some maple trees in order to produce syrup, and will be tapping more trees next year.
For the past two years, throughout the growing seasons the family has set up a small farm stand on the side of the road. The farm stand operates on the honor system, items are displayed and priced and a money collection box is put out.
"Using the honor system usually works well," says Ralph, "but we sometimes run into a few problems." However, the issues are not problematic enough to cause the Rathjens to steer away from the payment system. The Rathjen family seems to operate everything on their farm with a laid-back attitude yet genuine commitment. There are only two farm hands and the family grows many things simply for experimentation or pleasure. For instance, the fields of sunflowers blowing in the fall breeze are simply for the family's pleasure, not for sale. So whether it is to catch a beautiful view of the Lakes Region or to eat the best cherry tomato, KREBS Farm is the place to go.
Ralph and Kris Rathjen
Krebs Farm
315 Upper Bay Road
Sanbornton, NH 03269
http://www.krebsfarm.com/
603-556-9249
Bridget Sica is a student at Saint Anselm College.
Published on: November 18, 2014
Last modified on: May 3, 2016
---
For additional news on New Hampshire Farms, agriculture,
and seasonal events, follow us on
Facebook