Home » From the Commissioner
NH Ag Weekly Market Bulletin: September 2, 2009
New Hampshire Department of Agriculture, Markets & Food (September 2, 2009)
Labor Day Weekend On the Farm
Labor Day invokes a lot of jokes  among farmers.While neighbors and nonfarming friends and relatives get away someplace for the last long weekend of the summer,most farmers are working hard.They are hurrying to get hay in,getting equipment ready to chop corn,and milking and caring for livestock. They are picking apples and vegetables to keep farm stands stocked for customers on holiday, and seeding cover crops.They are hauling wagonloads of potted mums and flowering kale. On the farm,Labor Day weekend is almost as hectic as Memorial Day weekend.
The season also marks the shrinking of the labor force on many farms as high school and college students return to school. Bill Lord, fruit specialist emeritus with UNH Cooperative Extension, remarked recently that agriculture tends not to get the recognition it deserves as a significant provider of employmnet. And the value of job experiences provided to students and young people goes far beyond wages.
According to the Ag Census, in 2007 New Hampshire farm businesses spent over $36 million on labor. A total of 860 farms reported hiring a total of 5,020 workers. Of those workers, 1,727 worked more than 150 days. The other 3,293 worked fewer than 150 days, and could be considered part-time and/or seasonal. Many of these were students.
Moulton Farm in Meredith employs four people full-time, year-round. But through growing season John Moulton's labor force swells to over 45 employees,many part-time. He estimates that half of his staff are teens and college students. All three of his full-time managers started at the farm as young teens, kept returning for summer jobs through their college years, and are now in salaried positions with considerable responsibilities.
"Most of the keepers keep returning," John says of teen-aged workers. "They grow up in the business, and stay through college." Many of those young employees take important lessons from their hours watering plants in the greenhouse,weeding rows of onions, or waiting on customers at the farmstand. And many write about their farm work experiences for their college admission essays. One young woman, he recalls,wrote her college essay on how she learned persistence and diligence picking rows of peas.
Brian Palm, now in his 30s and a teacher of environmental science at the Brooks School in North Andover, Mass., wrote an essay this past week for the Exeter News-Letter, a tribute to Stratham vegetable farmer and conservationist Gordon Barker, who died suddenly of a heart attack. Brian wrote of his youthful experience working for Gordon and Edie Barker at Barker Farm. He was 'a keeper'who took his first summer job at the farm as a young high school student, and kept coming back during his summers off from Dartmouth College.
"While there was always plenty of fun to be had during those summers on the farm, I learned that farming is about rituals and repetition; long rows of weeding seedling carrots will teach that lesson. The reward for this toil is found in the meditation which fosters a bond that runs deep,filling the soul of the laborer. This connection was palpable in Gordon. You could feel it just walking in his wake down rows of corn with dew cascading on the ground as the stalks shook with each ear picked.His methods were sometimes quiet, always unrelenting and never once did he place financial gain above the value of our land. For him, it was clear; our soil and the land where it lies gives us sustenance and it should be valued and protected as
though our lives depended on it…; because they do."
Brian speaks for the many young people who have learned a lot from growing up doing real and productive work,mentored by the many farmers like John Moulton and Gordon and Edie Barker who understand that their farms are growing more than just crops.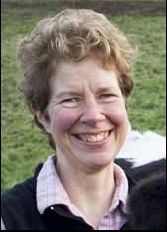 Lorraine S. Merrill, Commissioner
State of New Hampshire
Department of Agriculture, Markets & Food
Weekly Market Bulletin – September 2, 2009
Reprinted with permission