Home » From the Commissioner
Nemo Dampens Farm & Forest
New Hampshire Department of Agriculture, Markets & Food (February 16, 2013)
The Farm & Forest Expo's recent string of good weather luck ran out this year, with the blizzard named Nemo holding down attendance on Friday, and causing the Saturday cancellation. Paid attendance was just one-tenth of the normal Friday gate. The usual busloads of schoolchildren did not come this year, but plenty of parents brought their children along since schools everywhere were closed.
While some of Friday's workshops and meetings were canceled, others went on as scheduled. Many participants remarked on the quality of the smaller-group discussions in the workshops. Attendees and exhibitors enjoyed more substantive conversations and interactions made possible by the lack of crowds. A surprising number of diehards came to the awards reception Friday evening. The first-annual Stephen H. Taylor Agricultural Leadership Award, established in honor of the 30th anniversary of Farm & Forest and former Commissioner Taylor's leadership in founding the Expo, recognizes outstanding work by an individual who works professionally in the field of agriculture. John Porter, UNH Cooperative Extension Professor Emeritus, is the recipient of the inaugural award.
Several workshop sponsors have vowed to reschedule their programs, so keep an eye out for news of those events. UNH has sent out a reminder that the weather forecast is much more hospitable for the Research Field Day at the UNH MacFarlane Greenhouse this Friday, February 15, from 9:30-12:30. This event showcases agricultural research at UNH that relies on the greenhouses. The program includes a tour and informal talks about research underway this winter. New agroecology research faculty—plant pathologist Kirk Broders and plant breeder Iago Hale—will join strawberry geneticist Tom Davis and squash breeder Brent Loy. Cooperative Extension faculty Brian Krug, Cathy Neale and Becky Sideman will speak about projects with short-term impacts for our region's horticultural industries.
In recent months a series of farm lending summit meetings have brought together agricultural agencies and lenders, plus several new farm finance partners. Participants have included USDA Rural Development and USDA Farm Service Agency; Yankee Farm Credit and Farm Credit East; UNH Cooperative Extension; NH Department of Agriculture, Markets & Food; the Carrot Project, the Cooperative Fund of New England, the U.S. Small Business Administration, and the NH Community Loan Fund. These meetings have highlighted new opportunities available to farm and food entrepreneurs.  The Cooperative Fund, for example, works with businesses organized as cooperatives.
In January the Farm Service Agency announced a new microloan program designed to help small and family operations, beginning and socially disadvantaged farmers secure loans under $35,000. The microloan program aims to bolster farmers' progress through start-up so they can eventually graduate to commercial credit and grow their businesses. The microloan program also promises a more simplified application process.
The farm finance group meetings have helped forge relationships between these diverse public and private nonprofit entities, with a goal of facilitating partnerships in putting together plans and packages to support farmers and other food and agriculture entrepreneurs in attaining their goals. One example is the NH Community Loan Fund's expanding NH Farm and Food Initiative.
NHCLF Vice President John Hamilton and Charlene Anderson, manager of business education, were among the hardy souls who spent all day Friday at Farm & Forest. NHCLF aims to fill financing gaps, extend credit to those who may have a hard time meeting traditional lenders' criteria, and match business education opportunities to client needs. John Hamilton has contributed a Guest Column this week about their programs. He has identified obstacles he wants to address to better serve the agricultural community in the state—including raising awareness of what NHCLF's Food and Farm Initiative can offer existing farms and off-farm businesses.
Lorraine Merrill, Commissioner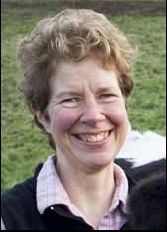 (reprinted from the Weekly Market Bulletin, Feb. 12,  2013)
SUBSCRIPTION NOTE:
The NH Department of Agriculture, Markets & Food Division of Agricultural Development compiles market information and publishes the Weekly Market Bulletin for the agriculture community. The Bulletin is the department's 'publication of record' and includes appropriate industry notices, announcements, seasonal information and market survey data. Subscribers may advertise in the popular agricultural classified advertising at no charge. One-year subscriptions are $28 for delivery by U.S. Postal Service, or $22 for delivery by secure internet. Sign up for the Weekly Market Bulletin by calling the office at 271-2505 and providing a credit card for payment; or visit the office at 25 Capitol St., Concord; or mail in your request with a check. Be sure to provide your address, phone number, and if you are requesting an online subscription, an email address.