Home » From the Commissioner
Move Over, My Pyramid
New Hampshire Department of Agriculture, Markets & Food (June 9, 2011)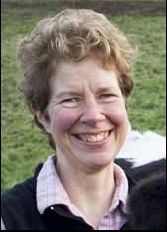 Last Thursday First Lady Michelle Obama, Agriculture Secretary Tom Vilsack and Surgeon General Regina Benjamin unveiled the federal government's new food icon, MyPlate, to help remind people to make healthier food choices. MyPlate is the new-generation icon, succeeding the familiar MyPyramid graphic, to prompt eaters to think about building a healthy plate at meal times. The intent is also to lead consumers to seek more information on healthy and nutritious meals by going to www.ChooseMyPlate.gov. The new MyPlate icon emphasizes the fruit, vegetable, grains, protein and dairy food groups.
Fruits and vegetables get half the plate, with grains (emphasis on whole grains) and protein foods sharing the other half. Milk and dairy gets its own small plate on the upper right corner, where the beverage glass is traditionally placed. Dietary recommendations are for three cups of milk/dairy a day for everyone above the age of eight. The protein group section of the website urges choosing five to seven ounces a day from a variety of meats and other protein foods, and recommends that consumption of an average of one egg a day does not increase risk for heart disease.    The ChooseMyPlate website urges fitting more vegetables into the daily diet, including tips on making veggies easy and convenient to prepare and serve. Other tips include seeking color variety and in-season choices. Fruits are recommended for all meals and for snacking. Tip sheets for fruits and dairy foods advise parents and other adults to be good role models for kids by eating fruits and consuming dairy products.
The new dinner-plate graphic is part of the joint effort of USDA and the Surgeon General and Centers for Disease Control and Prevention to reverse the obesity trend. To that end, key messages include "Enjoy your food, but eat less" and "Avoid oversized portions." "Foods to increase" include fruits, vegetables, whole grains and fat-free or low-fat milk.
"This is a quick, simple reminder for all of us to be more mindful of the foods that we're eating and as a mom, I can already tell how much this is going to help parents across the country," said First Lady Michelle Obama in a press release. "When mom or dad comes home from a long day of work, we're already asked to be a chef, a referee, a cleaning crew. So it's tough to be a nutritionist, too. But we do have time to take a look at our kids' plates. As long as they're half full of fruits and vegetables, and paired with lean proteins, whole grains and low-fat dairy, we're golden. That's how easy it is."
            USDA is inviting consumers to share ways they are putting MyPlate into action by taking photos of their plates and posting them on Twitter with the hash-tag #MyPlate. USDA also wants to see where and when consumers think about healthy eating. Take the plate and snap a photograph with MyPlate to share with the USDA Flickr Photo Group: [http://www.flickr.com/groups/choosemyplate].
* * * * * *
            Any time the government serves up changes to the official dietary guidelines or recommendations, you can expect a side-order of controversy. The introduction of MyPlate coincides with the first update of nutrition standards for the national school lunch program in 15 years. In keeping with the current political and fiscal climate, the first controversy to erupt over the new school food standards involves money. It is estimated that the new guidelines will add as much as $7 billion to federal school lunch program costs over the next five years, just when Congress is looking to trim spending. Some don't like some of the new standards, too—such as the limit of one cup per week of starchy vegetables. So when the House Agriculture Appropriations Subcommittee marked up its FY2012 spending bill for USDA this past week it added language that says, 'No, thank you" to USDA's new school nutrition standards.
Lorraine Merrill, New Hampshire Commissioner of Agriculture, Markets, & Food