Home » From the Commissioner
Historic Role for Plainfield Oxen
New Hampshire Department of Agriculture, Markets & Food (October 11, 2013)
A pair of Milking Shorthorn oxen, named Lewis and Clark, are headed to their new home at the George Washington Birthplace National Monument, in Pope's Creek, Va., on the Potomac River. The team, now 5 ½ years old, were raised and trained by Kate Whybrow of Plainfield. Whybrow is a Plainfield native who was active in 4-H and grew up showing Shorthorns. She went on to Cornell University College of Veterinary Medicine—eventually returning to Plainfield where she joined the practice at Riverbend Veterinary Clinic.
The dark red, well-matched bull calves were born within five days of each other at Taylor Farm in Meriden, and Steve Taylor knew that Kate Whybrow would take a fancy to them. One of her children happened to be reading a book about Lewis and Clark when she brought the pair of calves home. Now this pair of oxen with names from American history will have a place in teaching visitors to the historic farm.
The historical heritage of the Milking Shorthorn breed, one of the oldest breeds of cattle, was a factor in the pair's selection for this special role. George Washington was born on his father's Pope Creek tobacco farm on February 22, 1732. Three and a half years later, his father moved the family up the Potomac to live at Mount Vernon. In 1779 the home where Washington was born burned down. A Memorial House was built near the spot in 1930. Today the National Park Service operates a colonial farm where costumed interpreters recreate the 18th century plantation life.
The historic farm features livestock and poultry likely to have been kept when the Washingtons lived there. The first Shorthorns in the United States were "Milk Breed Shorthorns" brought to Virginia in 1783. Often known as Durhams, these cattle were valued by the pioneers for milk, meat and draft power. Lewis and Clark weigh over 2,000 pounds each, and stand 5' 6" at the shoulders. At their new farm they will pull carts and do demonstrations for tourists. Managers of the historic farm looked to New England for a well-bred and trained team of oxen.
The UNH Organic Dairy Research Field Day on October 28 from 10:00-1:00 will feature UNH researchers reporting on a variety of projects of interest to organic and regular producers, and others. Topics include artisanal cheese making; the role of blood vessels in dairy cow fertility and ovary function; molasses, kelp and flaxseed in organic dairy diets; effects of genotypic diversity on forage productivity; reducing animal bedding and energy imports and costs in organic farming; mobilization of nitrogen during storms; a model to reduce dairy farm greenhouse gas emissions and improve nutrient cycling; how forests, croplands, and residential neighborhoods interact with climate. Free and open to all, but please RSVP to Laurrie Malizia at Laurrie.Malizia@unh.edu or 603-862-1452.
…..
UNH Cooperative Extension Food and Agriculture Field Specialist George Hamilton won an achievement award from the National Association of County Agricultural Agents (NACAA) at a national extension conference two weeks ago. Hamilton received the 'Search for Excellence in Crop Production' award for his work on the Air Blast Sprayer Calibration Program, which helps growers keep their air sprayers in good operating condition and apply pesticides accurately and efficiently. The award recognizes NACAA members for outstanding extension educational programs in crop production.Hamilton explains that calibration of air blast sprayer equipment is the best way to ensure spray applications are effective, efficient, and economical. "Poor spray coverage is the primary cause of reduced spray product performance. Regular care and maintenance will ensure the sprayer is residue-free," he adds. The unique program results in savings of time, money, and pesticides in the environment, and was funded by the department's Integrated Pest Management Grant program.
Lorraine Merrill, Commissioner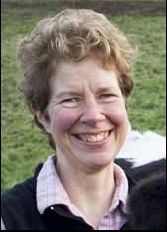 (reprinted from the Weekly Market Bulletin, Oct. 9, 2013)
SUBSCRIPTION NOTE:
The NH Department of Agriculture, Markets & Food Division of Agricultural Development compiles market information and publishes the Weekly Market Bulletin for the agriculture community. The Bulletin is the department's 'publication of record' and includes appropriate industry notices, announcements, seasonal information and market survey data. Subscribers may advertise in the popular agricultural classified advertising at no charge. One-year subscriptions are $28 for delivery by U.S. Postal Service, or $22 for delivery by secure internet. Sign up for the Weekly Market Bulletin by calling the office at 271-2505 and providing a credit card for payment; or visit the office at 25 Capitol St., Concord; or mail in your request with a check. Be sure to provide your address, phone number, and if you are requesting an online subscription, an email address.