Home » From the Commissioner
Farmers' Market Week Ushers in Eat Local Month
New Hampshire Department of Agriculture, Markets & Food (August 9, 2012)
New Hampshire Eat Local Month starts off again this year with National Farmers' Market Week—August 5-11.  On Tuesday USDA Food, Nutrition and Consumer Services Deputy Under Secretary Janey Thornton and Ned Porter of the Wholesome Wave Foundation joined us on a visit to the International Farmers' Market at 315 Pine Street in Manchester.  Wholesome Wave provides grant funding to double the value of SNAP (food stamps) benefits spent at the International Markets.
This market is one of three International Farmers' Market locations in Manchester this year, featuring produce grown by new immigrant and refugee farmers. Every farmers market has its own personality—a combination of factors including the vendors, market leadership, the customers and the specific community setting. Larger markets can have an old-fashioned fair-like atmosphere, with expansive rows of vendors, live music and other attractions. This week I stopped by a gem of a smaller market, the Northwood Farmers' Market.  Visiting different markets can turn up unique and surprising items offered for sale. In Northwood I found ground, sun-dried chilis in mild and spicy varieties, dried Jacob's cattle and yellow-eye beans and wheat berries grown in Nottingham, as well as fresh veggies and maple syrup.
The Farmers' Market Directory maintained by the department lists nearly 80 local farmers' markets around the state, and we keep hearing about new ones that have not signed up to be included in that promotional directory. That directory is found on our website under 'Publications and Forms', and also at www.visitnh.gov, the state Travel and Tourism site. If your market is not on the list, have the manager contact Gail McWilliam Jellie.  The NH Farmers' Market Association is an organization of local markets from across the state, which allows farmers' markets to work together, provides educational workshops at Farm & Forest Expo in February, and allows members to exchange information. The association provides a voice for farmers' markets on legislative and regulatory issues.
The USDA 150th anniversary celebration held last week at Miles Smith Farm in Loudon included a flash farmers' market—organized as a one-time, one-afternoon event. Miles Smith Farm offered samples of their delicious grass-fed beef sausages in roll. Locally made ice creams and Echo Farm puddings were popular on this warm day.  Guests at the event were purchasing everything from fresh vegetables and berries, to fancy pickles and preserves, to New Hampshire wines.
* * * * * *
Last week Secretary Vilsack designated an additional 218 counties as primary natural disaster areas due to the prolonged and expanding severe drought. The primary designated disaster areas include all or parts of 26 states—with more than half the counties in the U.S., in 32 states now eligible for assistance. As of the end of July, only 24% of the nation's corn crop was rated in good or excellent condition. The Wall Street Journal quoted USDA Chief Economist Joseph Glauber saying, "Crop producers will largely weather the losses," thanks to crop insurance and sky-high prices. The paper noted the impacts will be far more drastic for livestock producers. Those in the drought areas are facing parched, shriveled pastures and scarce and expensive hay supplies.
* * * * * *
At the Northwood Farmers' Market Hayward's Natural Farm in Gilmanton Iron Works was offering fresh eggs and vegetables. With 1,000 laying hens and eager wholesale markets looking for more local eggs, Ray Hayward says he has a great system using high tunnels and pasture ranges, and would like to double the size of their flock. But the price outlook for grain is causing him to think twice about his plans.
Lorraine Merrill, Commissioner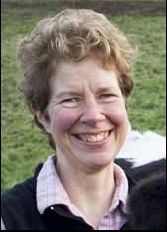 (reprinted from the Weekly Market Bulletin, Aug.8, 2012)
SUBSCRIPTION NOTE:
The NH Department of Agriculture, Markets & Food Division of Agricultural Development compiles market information and publishes the Weekly Market Bulletin for the agriculture community. The Bulletin is the department's 'publication of record' and includes appropriate industry notices, announcements, seasonal information and market survey data. Subscribers may advertise in the popular agricultural classified advertising at no charge. One-year subscriptions are $28 for delivery by U.S. Postal Service, or $22 for delivery by secure internet. Sign up for the Weekly Market Bulletin by calling the office at 271-2505 and providing a credit card for payment; or visit the office at 25 Capitol St., Concord; or mail in your request with a check. Be sure to provide your address, phone number, and if you are requesting an online subscription, an email address.