Home » From the Commissioner
Farmer Meeting Season Has Begun
New Hampshire Department of Agriculture, Markets & Food (November 1, 2014)
These days it seems more of the challenges farmers face involve growing pains. Farmers see new opportunities opening up, new services becoming available to support growth of farm businesses and markets. For example, having four USDA-inspected slaughter facilities in the state has expanded access and choice for farmers, and increased the supply of locally raised meats available to consumers and institutional buyers. CJEJ Farm's planned new meat-cutting and processing facility in Columbia, in Coos County, will increase options for livestock producers to market meat products. The possibility of two USDA-inspected poultry plants—up till now we have had zero, and the new law that will allow direct-sale of up to 1,000 chickens or rabbits to restaurants without federal inspection, will open new markets and capacity for locally raised chickens and turkeys.
More farmers are adding or considering value-added enterprises, new crops, new ways of connecting with consumers and markets. Whether looking to increase sales through established channels, or entering new markets, understanding customers and demand is key. The 2012 Ag Census indicates that profitability is the biggest challenge for New Hampshire farms. UNH Cooperative Extension is offering practical workshops on the business of farming.
The Direct Marketing Conference–'Exceeding the Speed Limits with Markets and Customers Expectations'—is offered at the Concord Holiday Inn on Tuesday, November 4. Nancy Clark, a New Hampshire-based marketing professional, will lead an interactive session on understanding the millennial generation as workers and customers. Innovative farm marketers from New Hampshire and neighboring states will share their experiences. Contact Nada.Haddad@UNH.edu or 603-679-5616. Register on-line at http://tinyurl.com/NHDirectMarketing.
'Essential Farm Accounting' workshops will be offered November 10 in Brentwood and December 4 in North Haverhill, both from 6:00-9:00 pm. This workshop is geared for beginner to intermediate level, and will help farm business owners and managers to keep the accurate records they need—and to create and interpret reports that show whether a business is profitable and growing. Register online at http://tinyurl.com/EssentialAccounting14.
'Understanding Farm Income Taxes' will be offered in the same two locations and same times–Brentwood on November 17 and North Haverhill on December 18. Participation in Essential Farm Accounting is recommended. This workshop covers IRS record-keeping and tax reporting requirements, as well as information on agricultural income tax laws and their implications for the farm business. Register on-line at http://tinyurl.com/FarmTaxes14.
For more information on both the accounting and farm income tax workshops, contact Mike Sciabarrasi, UNH Cooperative Extension farm business management specialist, at Mike.Sciabarrasi@unh.edu or at 603-862-3234.
A four-week series on Advanced Farm Management will be offered in three locations over the next several months, beginning November 19 in Charlestown, in late January and February in Concord, and in North Grafton, Mass., in March. This program is for "mid-career producers who are serious about building their financial management and strategic marketing skills. Participants will evaluate their businesses' overall financial condition and examine the costs and profitability of individual enterprises…" Contact Seth Wilner for more information at Seth.Wilner@unh.edu or call 603-863- 9200.
*****
Ruth Mann of Grand View Farm in Canterbury will be awarded the Honorary American FFA Degree this week at the National FFA Convention in Louisville, Kentucky. This award is given to individuals who have provided exceptional service to agriculture, agricultural education, or FFA. Past president of the Associated Women of NH Farm Bureau and long-time member of the NH FFA Foundation Board, Mann is an effective advocate for FFA and an enthusiastic supporter of FFA youth, volunteering countless hours judging FFA competitions. State FFA Executive Director Maria Vanderwoude notes that Mann is a great supporter and advocate for all agricultural education—including 4-H, FFA, Ag in the Classroom, and at UNH.
Lorraine Merrill, Commissioner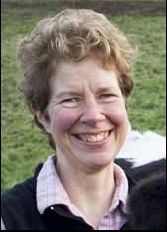 Department of Agriculture, Markets, & Food
(This column is excerpted from the Weekly Market Bulletin, Oct 29, 2014)
SUBSCRIBE TO THE ENTIRE WEEKLY MARKET BULLETIN:
The NH Department of Agriculture, Markets & Food Division of Agricultural Development compiles market information and publishes the Weekly Market Bulletin for the agriculture community. The Bulletin is the department's 'publication of record' and includes appropriate industry notices, announcements, seasonal information and market survey data. Subscribers may advertise in the popular agricultural classified advertising at no charge. One-year subscriptions are $28 for delivery by U.S. Postal Service, or $22 for delivery by secure internet. Sign up for the Weekly Market Bulletin by calling the office at 271-2505 and providing a credit card for payment; or visit the office at 25 Capitol St., Concord; or mail in your request with a check. Be sure to provide your address, phone number, and if you are requesting an online subscription, an email address.