Home » From the Commissioner
Emerald Ash Borer Gets Closer
New Hampshire Department of Agriculture, Markets & Food (September 22, 2012)
Emerald ash borer (EAB), an invasive forest pest originating in China, has been confirmed in Berkshire County, Mass. Responsible for killing millions of ash trees in forests and urban landscapes in the Midwest since its first detection in Michigan in 2002, EAB has now been detected in two New England states. Connecticut announced a find in New Haven County in July, and now Massachusetts authorities have announced the discovery of the invasive pest in the western part of that state.
Ash is a significant component of New Hampshire's hardwood forests and urban and suburban landscapes. EAB's spread can be human-assisted as it is readily moved within firewood. New Hampshire has a quarantine prohibiting importation of out-of-state, untreated firewood. Although some exceptions are available, firewood from Connecticut and Berkshire County, Massachusetts has been banned since the quarantine was implemented in July, 2011. The cooperation of the public in complying with the prohibition against moving firewood into New Hampshire from out of state is essential.  For more information, visit www.nhbugs.org.  For information, or if you think you have seen EAB in New Hampshire, contact the NH Department of Agriculture, Markets & Food  Division of Plant Industry at 603-271-2561 or bug@agr.nh.gov, or the NH Division of Forests and Lands at 603-464-3016.
**********
NH Agriculture in the Classroom Coordinator Ruth Smith wrote a compelling account of her trip to the National Ag in the Classroom conference in Colorado for the latest issue of NH Farm Bureau's The Communicator.  Smith recounts the eye-opening tours of Western agriculture, including a 20,000-head sheep ranch and feedlot, a feedlot operation with 90,000 head of feeder cattle, and a modern slaughter and meat packing facility. She came away with heartfelt empathy for ranchers and farmers struggling under the terrible drought conditions that we hear about on the news.  While these larger-scale agricultural enterprises are very different from those she is used to seeing in New England, she heard the owners and managers tell how they work to ensure the well-being and proper handling of their livestock, and stewardship of the environment. "Many of the stereotypes and images of feedlots which I had were dispelled. Others were not," Smith notes.
Soon after her return to New Hampshire, Smith visited a diversified farm that raises pastured livestock and a variety of vegetables for local markets. "These two experiences could not have been more different and the fact is, they both meet the demands and diverse interests of American consumers," she concludes. Getting people of all ages onto farms provides some of the most valuable educational experiences, Smith says. She invites farmers interested in hosting classes and groups to contact her at nhaitc@nhfarmbureau.org or 603-224-1934.
This is the time of year when many school groups venture to local orchards to pick apples or to farms that grow pumpkins and host corn mazes. Ramblin' Vewe Farm http://www.ramblinvewefarm.org in Gilford hosts the annual Belknap County Farm to School Days on September 25-26.
Ag in the Classroom and the NH Farm Museum are teaming up to present a workshop for teachers on how to interpret the clues to our state's agricultural heritage in the landscape and buildings of our communities. Farm Museum Director Kathleen Shea and Smith will lead this training which is geared, but not limited to teachers of grades 3-5, at the NH Farm Museum in Milton on October 11 from 4:00-6:30. Participants will get to meet some Merino sheep—descendants of the 'sheep mania' breed that brought booming prosperity to our state— cleared pastures and stone walls to our hillsides, imposing farmhouses to our villages and farms, and red-brick and stone mills to Manchester and other river towns.  Space is limited and pre-registration is required. Contact Ruth Smith at nhaitc@nhfarmbureau.org or 603-224-1934.
Lorraine Merrill, Commissioner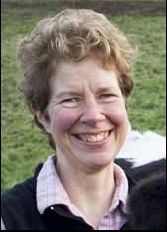 (reprinted from the Weekly Market Bulletin, Sept. 19,  2012)
SUBSCRIPTION NOTE:
The NH Department of Agriculture, Markets & Food Division of Agricultural Development compiles market information and publishes the Weekly Market Bulletin for the agriculture community. The Bulletin is the department's 'publication of record' and includes appropriate industry notices, announcements, seasonal information and market survey data. Subscribers may advertise in the popular agricultural classified advertising at no charge. One-year subscriptions are $28 for delivery by U.S. Postal Service, or $22 for delivery by secure internet. Sign up for the Weekly Market Bulletin by calling the office at 271-2505 and providing a credit card for payment; or visit the office at 25 Capitol St., Concord; or mail in your request with a check. Be sure to provide your address, phone number, and if you are requesting an online subscription, an email address.